You are here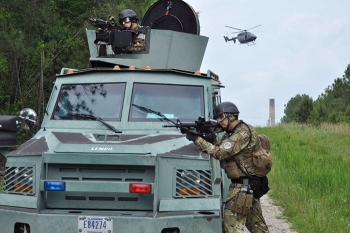 Centerra's special response team and aviation operations department are important elements of the SRS protective force.
AIKEN, S.C. – Centerra-SRS, the security contractor at the Savannah River Site (SRS), earned an overall "excellent" performance rating for the most recent evaluation period of Oct. 1, 2015, to March 31, 2016. DOE's award fee determination allows the company to receive $2.8 million, or 95 percent of its total fee of nearly $3 million, for the six-month period.
   View the award fee determination scorecard for Centerra here.
   Centerra-SRS personnel demonstrated an exceptional level of performance this period, meeting or exceeding most of the performance goals and objectives and supporting the site's security posture at various SRS operating facilities.
   The award fee determination scorecard noted key achievements and accomplishments in the performance areas of protective force operations and training; management and support; environment, safety, health and quality assurance; and cost control.
   The Centerra Protective Force responded well to several security incidents during the period, applying the appropriate response plan activities and exercising command and control. Reliably executing routine and emergency duties while following DOE directives and site-specific security requirements, Centerra demonstrated proficiency and a commitment to ensure the overall safety and security of SRS.
   The report also noted the Centerra Law Enforcement Department and Canine Section's support to the site security mission, local law enforcement agencies and the South Carolina Law Enforcement Department. This support included explosive detection searches at local schools and venues used by presidential candidates for speaking engagements.
   In addition, Centerra was commended for exceptional protection of special security interests stored in SRS critical facilities. 
   Scoring 15 of a possible 15, Centerra's cost control performance was especially noteworthy. The company was significantly under budget for the six-month period and is on track to do the same for the entire fiscal year ending Sept. 30, 2016.
   The contractor's aviation operations department was commended for its high level of proficiency and operational readiness through training and maintenance.  
   Centerra's environment, safety, health and quality assurance department continued to make sure integrated safety management system adherence is a part of all work performed by the company, ensuring a focus and commitment to safety in all operations.
   The work of the Centerra Training Division was also noted, specifically a program to enhance the skills and readiness of the site's protective force.
   Overall, Centerra's achievements and accomplishments during the rating period demonstrate solid practices in protection of SRS national security interests and resources, the report said.