You are here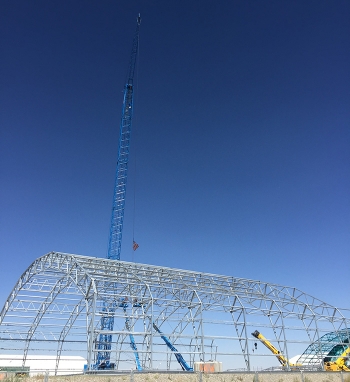 Crews erect the ninth and final building over a portion of a 97-acre landfill that accepted Rocky Flats-generated hazardous and radioactive waste from 1954 until 1970. Once the structure is completed in 2017, crews will exhume the last targeted waste at the landfill required under a 2008 record of decision between DOE, the state of Idaho, and Environmental Protection Agency.
IDAHO FALLS, Idaho – Construction is under way on the ninth and final building for crews to exhume buried Cold War weapons waste at the Idaho Site generated decades ago at the former Rocky Flats Plant near Denver.  
   Crews in 2005 began removing the radioactive and hazardous constituents from drums and boxes buried in unlined trenches at the Radioactive Waste Management Complex from 1954 to 1970. Individual steel-framed buildings with fabric exteriors were erected over specific areas of the landfill containing higher concentrations of the targeted waste material. These buildings provide a barrier to prevent any radiological release to the environment during exhumation and protect the workers.  Exhumation of the waste is necessary to protect the underlying Snake River Plain Aquifer, the primary drinking and irrigation water source for more than 300,000 Idahoans.
   In 2008, the DOE, Environmental Protection Agency and state of Idaho agreed to remove targeted wastes from a combined area of 5.69 acres of the landfill. Fluor Idaho, EM's cleanup contractor at the Idaho Site, is currently removing targeted buried waste in the eighth building erected over the landfill. Waste exhumation in that 1.72-acre building is 52 percent complete and is expected to continue into 2017.
   Construction of the ninth building began this summer. EM awarded an $11 million small-business contract to North Wind Services of Idaho Falls. The 0.69-acre structure is scheduled for completion in late spring 2017, with waste exhumation scheduled to start after a readiness review.
   "I am extremely pleased with the waste exhumation work that is being accomplished at the Accelerated Retrieval Project," said Jack Zimmerman, DOE Idaho Operations Office's deputy manager for EM. "The Accelerated Retrieval Project is two years ahead of schedule and the workers continue to outperform the baseline. The credit goes to the employees, who continue to work towards completion of exhumation efficiently and safely. It is their continued focus that helps ensure ongoing success of the environmental cleanup program in Idaho."
   Crews have removed waste from 4.18 acres, generating the equivalent of more than 35,000 55-gallon drums of material. Once exhumed, characterized and repackaged, the waste is shipped out of Idaho for permanent disposal. Following the completion of waste exhumation, a soil cap will be installed over the unlined trenches.