You are here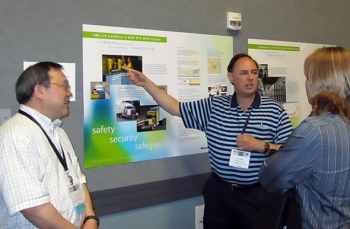 James Shuler, manager of DOE's Packaging Certification Program, within EM's Office of Packaging and Transportation, discusses the radiofrequency identification technology he developed. At left is RFID Team Leader Yung Liu, with Argonne National Laboratory.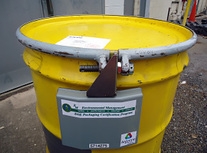 The radiofrequency identification technology EM's James Shuler developed is shown here, attached to a waste shipment.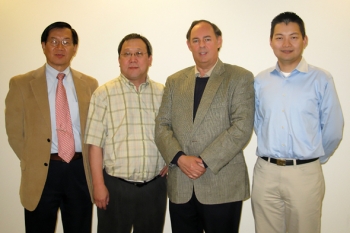 The original team that developed the radiofrequency identification technology to track and monitor radioactive material shipments is pictured here, left to right: Hanchung Tsai, Yung Liu, James Shuler and Kun Chen. Tsai, Liu and Chen are Argonne National Laboratory employees.
WASHINGTON, D.C. – EM's James Shuler felt honored being named a technology innovation award finalist for developing radiofrequency identification (RFID) technology to track and monitor radioactive material shipments.
"I was very surprised," he said. "It's humbling to think I've been selected with all these other innovative personnel."
Come October, the manager of DOE's Packaging Certification Program, within EM's Office of Packaging and Transportation, will find out if he is chosen out of 19 finalists from 12 federal agencies for a Bold Award from Nextgov, an online information resource on technology and government.
EM officials believe the creative technology is a win for the Department on several fronts.
"Jim's innovation allows DOE to track and monitor radioactive material and waste shipments in real time, which has resulted in improved safety and cost savings for the Department as well as attracted a global interest for its broader impacts," EM Associate Principal Deputy Assistant Secretary Alice Williams said.
Shuler said he came up with the idea for the technology — it is named ARG-US, a reference to the mythological giant with multiple eyes — after reading articles about RFID. He soon learned the technology had not been used to track and monitor radioactive material shipments.
"We started to talk about it and started to research. We finally figured out no one was doing what we wanted to do," Shuler recalled. "We could see a great return on our investment for the good of the transportation, safety, safeguard and security world. We felt like we were filling a gap that needed to be filled."
The Nextgov award would add to a growing list of accolades for the licensed technology. Shuler's technology development team has won several international technology awards since 2011, from "Most Innovated Use of RFIDs," to one of the "100 World's Best Technologies." This year, the Association for Automatic Identification and Mobility honored the team with its first Active RFID Award, which captures successful RFID case histories of actual installations that have proven measurable benefits. DOE also briefed President Obama on the technology for last year's World Nuclear Security Summit in Seoul, Republic of Korea.
Nextgov's Bold Awards honor federal employees who have taken risks to implement innovative programs that make government more effective. More than 180 people were nominated for the awards.
Nextgov noted that the RFID technology developed by Shuler's team saved money, improved safety and attracted global interest for its broader potential.
Other finalists were recognized for enhancing veterans' health care, boosting national security, saving lives during emergencies, advancing international relations, strengthening environmental protections and saving taxpayers money.
The EM RFID technology transmits continuous, almost real-time information using radiofrequency waves from sensors bolted to the lids of the transportation packages. A remote receiver miles away receives the information for tracking and monitoring packages in transport, in-transit stops and storage. The sensors work in conjunction with the local receiver, secured computer network servers, and satellite- or cellular-based communication channels.
The EM RFID technology was developed to cut costs of required, periodic leak testing of these shipment packages. The robust containers have seals to prevent leaks that are tested before shipment and replaced at least annually to ensure safety. The technology also monitors the temperature of the seals to ensure it does not exceed designated thresholds. As a result, the seals last longer and testing is needed less frequently, which lowers packaging costs complex-wide.
Other benefits of the system include enhanced safety, safeguards, security and materials accountability. Radiation exposure is reduced by decreasing the need for manned surveillance, and users receive real-time access to data, including continuous monitoring of environmental conditions.