You are here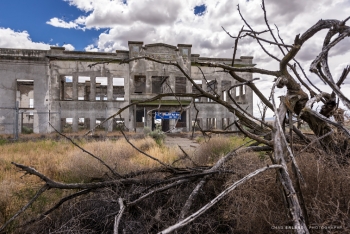 Shown here are the remains of Hanford High School, built in 1916 in the town of Hanford. It will be one of many pieces of the Manhattan Project National Historical Park.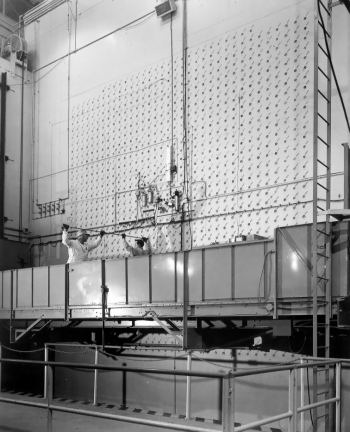 The Graphite Reactor at the Oak Ridge National Laboratory would be one of the featured stops for visitors of the Manhattan Project National Historical Park.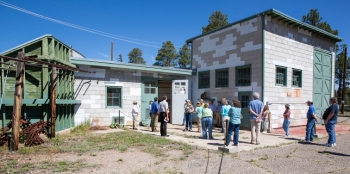 National Park Service staff responsible for initiating the Manhattan Project National Historical Park tour legacy sites at Los Alamos National Laboratory.
WASHINGTON, D.C. – The establishment of a new national park commemorating the Manhattan Project is one step closer now that a draft Memorandum of Agreement (MOA) between the federal agencies that will be responsible for the park has been completed and released for public comment.
   The MOA outlines the roles and responsibilities the DOE and U.S. Department of Interior will have in managing the Manhattan Project National Historical Park. The public comment period for the draft MOA ended Aug. 28; the document must be finalized by mid-December in accordance with the 2014 legislation that authorized the park.
   "In the legislation creating the new park, DOE was given a substantial and perpetual role," said Colleen French, the DOE program manager for the park at Hanford. "DOE will continue to own and operate all of our facilities included in the national park, maintain and preserve those sites, and provide safe public access to them. The National Park Service, meantime, will bring its unparalleled skill in interpretation and visitor services. It's a perfect partnership, and we are proud to be a part of it."
   The park will consist of facilities at the three sites — Hanford, Oak Ridge and the Los Alamos National Laboratory — that played key roles in the creation of the atomic bomb during World War II. Each location will be interpreted and will increase the public's access to the Manhattan Project story.
   "Decisions about how to provide that access will be made over time and will be guided by the need to ensure public safety and continue meeting mission requirements," French said.
   Along with helping to educate visitors on the history of the Manhattan Project, the new park is expected to bring substantial benefits to the local communities near each site.
   "Heritage tourism brings money, people, and jobs to gateway communities. At the Hanford Site, for example, where the B Reactor National Historic Landmark has been open for tours since 2009, the local Visitor and Convention Bureau estimates that B Reactor's 10,000 visitors per year are bringing about $2 million dollars to the local economy. People stay in hotels, eat in local restaurants, and remain in town to do other things such as recreation on the river and wine tasting," French said. 
   She added, "The communities surrounding the Manhattan Project sites have been passionate and effective advocates for the new park and are valuable partners as DOE plans for preservation of historic facilities and public access to the park sites. We will work closely with our communities, area Tribes, and others as we stand up the park and grow over time."