The Office of Worker Safety and Health Assistance (AU-12) once again attended the Voluntary Protection Programs Participants' Association (VPPPA) Integrated Safety and Health Systems Symposium, Safety+, in New Orleans, LA, August 29 – September 1. This year the VPPPA partnered with the Louisiana Governors Safety Alliance to hold a conference within a conference. Initially there was some anxiety as Hurricane Harvey was making landfall in Texas just as the conference was getting underway. Fortunately, the storm remained further west. Although New Orleans did get heavy rains, it did not dampen our participation. Overall, conference attendance was down from previous years due to the hurricane threat, but attendance was still over 1,500 people from Industry, the Department of Defense, Department of Energy, OSHA, and several OSHA Plan states.
The week began for AU with the annual DOE-VPP Meeting. Brad Davy provided participants with a brief update, including results from AU-12's review of participant statistics. In 2016, DOE‑VPP participants reported 377 recordable injuries, for a program-wide Total Recordable Case Rate of 0.85 recordable cases per 200,000 work hours. Had DOE-VPP participants performed at the average rates for their comparison industries, participants might have seen as many as 1,456 recordable injuries. These numbers point out how well DOE-VPP is working to save lives and money. Brad then shared some lessons learned from contract transitions over the past 9 years, focusing on the importance of managers involving workers in the transition decisions.
Mission Support Alliance, LLC (MSA) Hanford then presented its experience over the past year encouraging a reporting culture, and the benefits of incident reporting. RJ Debevec, Rocky Simmons, and Gordy Denman shared how MSA had emphasized manager visibility and presence in the field.. The resulting increase in the number of reported incidents correlated strongly with a decrease in recordable injury rates, demonstrating that increasing reporting actually helps reduce injuries.
CH2M Plateau Remediation Company (CHPRC) [Hanford] presented how it has used a strategic approach to communication to foster improvements in safety culture. A DOE-VPP assessment in early 2017 identified CHPRC's commitment to communication as a strength of its program. Lynn Tegeler, Communications Specialist, and Ben Culver, Building Trades Safety Representative, provided useful information and demonstrated a variety of communication barriers. They also showed how planning and strategic management overcome those barriers, and help manage the message and prevent misinformation.
The morning session concluded with a short introduction to Consolidated Nuclear Security LLC's Relational-Based Management approach, helping workers, supervisors, and managers develop better relationships that lead to performance excellence. The session was very well received, particularly a "speed dating" approach for participants to use a two-minute conversation to begin building a relationship.
After lunch, AU-12 presented the annual DOE-VPP awards for excellence. These awards include the Superior Star, the Star of Excellence, the Legacy of Stars, and the VPP Champions. This year, one contractor received the Legacy of Stars. This award recognizes contractors that qualified for the Star of Excellence for a fourth year in a row. CH2M Hill BWXT West Valley (CHBWV) was the sole recipient.
AU-12 awarded three DOE-VPP Contractor Champion awards this year. The first award went to Morgan Smith, Chief Executive Officer of Consolidated Nuclear Security, LLC (CNS). During the Y-12 assessment this year, the DOE-VPP assessment team heard praise for Morgan's leadership, integrity, and drive for performance excellence as primary motivators for CNS Y-12's success in retaining its DOE-VPP Star through a very difficult contract transition. The second award went to Bruce Hill, ES&H lead at National Security Technologies, LLC's Los Alamos Office. In addition to his local leadership for VPP, Bruce has participated in several DOE-VPP assessments as a volunteer. Bruce's quiet leadership style, technical knowledge, and commitment to excellence over several years are hallmarks of DOE-VPP.
The third DOE-VPP Champion award went to Keshwar Kumar, of Project Enhancement Corporation (PEC). In her headquarters support role, Keshwar has worked diligently over the past 9 years helping organize teams, scheduling assessments, coordinating logistics, and establishing open communications between site points of contact and the teams.
The DOE-VPP community knows Keshwar as a hard worker and a "force" within the program. Those in attendance enthusiastically agreed with the significance of the award, recognizing Keshwar's dedication to DOE-VPP and her hard work helping address participant concerns and communicating with participants representative's throughout the past 9 years by giving her an overwhelming vocal response and standing ovation.
The rest of the week consisted of attending conference breakout sessions and networking with DOE-VPP participants. AU-12 had a booth on the exhibit floor that was a popular place for DOE-VPP participants to meet with the headquarters staff, discuss program issues, share ideas, express interest in volunteering for future assessments, and network between sites. Vendors took the opportunity to learn more about DOE sites, and identify business opportunities within DOE. Several vendors demonstrated how new technology is changing work methods, protecting workers, and developing new solutions to old problems. AU-12 also interacted with OSHA leaders, comparing notes between the respective programs.
Networking with DOE-VPP Participants Gallery: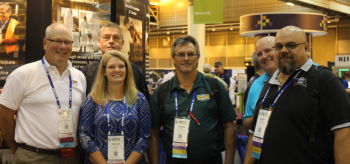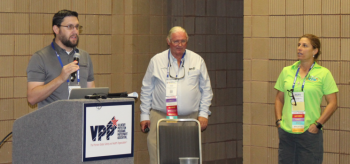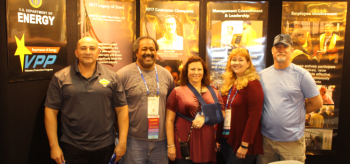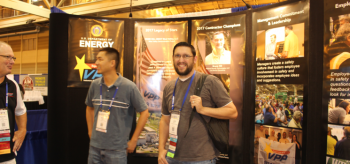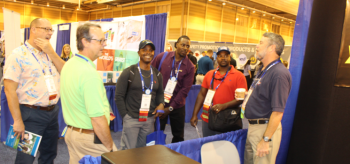 DOE and its contractors continue to demonstrate leadership and excellence in safety, setting an example for general industry. This year, DOE-VPP participants received 42 percent of the available awards from the VPPPA. DOE‑VPP participants were awarded for leadership, innovation, outreach, and education.
VPPPA National Award Winners from DOE were:
Maria Ellinger, WTCC, Stephen Brown Scholarship
Curtiss Crenshaw, SRNS, VPPPA Achievement Award
Darrell Freeman, SRNS, VPPPA Achievement Award
Loretta Williams, SRNS, VPPPA Achievement Award
Robin Henle, Richland, Sergeant Safety Scholarship
INL-BEA, Safety and Health Outreach Award
UCOR, VPP Innovation Award, Safety and Health Outreach Award
WRPS, VPP Innovation Award