You are here
During Fiscal Years 2010-2013, the U.S. Department of Energy's (DOE) State Energy Program (SEP) competitively awarded a total of $4.05 million to assist states in developing policy and program frameworks that supported cost-effective energy efficiency initiatives designed to increase annual statewide energy savings.
States with electricity savings of less than 0.5% were encouraged to establish an energy savings goal of at least 1% of electricity sales. States worked toward achieving their goal through the adoption of energy efficiency policies and the implementation of utility programs designed to reduce electricity demand. Learn more about the awardees' goals and activities.
States that had moderate to significant current electricity savings were encouraged to develop strategies that could help them exceed existing electricity savings by 1% annually. These states developed a variety of strategies to bolster energy efficiency programs and realize the full potential for greater energy efficiency in the state, sharing their lessons learned with DOE for other states and government entities to leverage.
States supported with this award achieved their goals through a collaborative and inclusive stakeholder process, and built on the foundation of the National Action Plan for Energy Efficiency Vision for 2025: A Framework for Change (see figure 1 below, which outlines the process).
Figure 1. Steps in the National Action Plan for Energy Efficiency Framework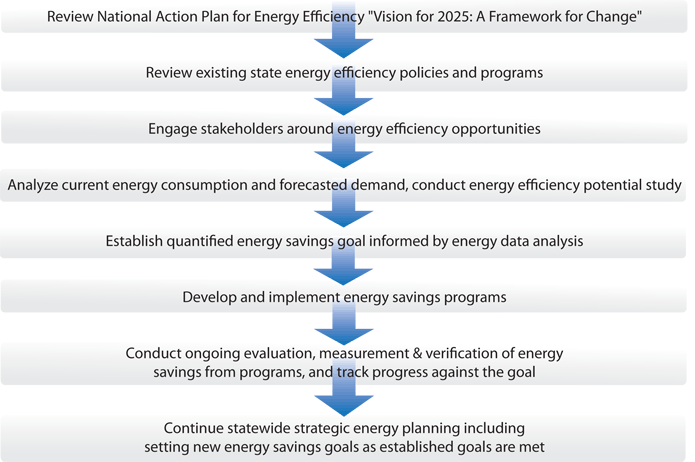 State Goals and Activities Under the Award
The states awarded SEP competitive funding assistance for stimulating energy efficiency action are Alaska, Arkansas, Kentucky, Mississippi, New Hampshire, Texas, and Washington.
Background and Supporting Information
Leveraging Lessons Learned
To document project successes and lessons learned, states agreed to share project information and updates with DOE so it could be leveraged by other states and government entities. Each state developed an implementation model to share the "playbook" of how they overcame operational, financial, or organizational barriers to advance energy efficiency initiatives. They also provided instruction and tools that will enable others to successfully replicate these proven methods in their own communities.
Each state also developed a peer exchange to interact with each other over the course of their award activities to share ideas, suggestions, and experiences for problem-solving and advancing their programs.