You are here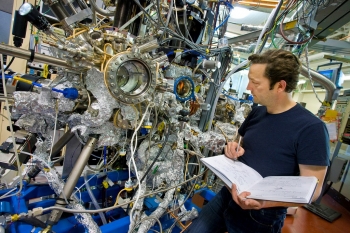 Clean energy technologies like the solar energy innovations underway at Lawrence Berkeley National Lab are transitioning into the marketplace more rapidly because of a new initiative called Lab-Corps.
A new innovation pathway is gaining ground – one that corrals the brightest minds in the nation to bring select breakthrough clean energy technologies to market. The Energy Department's $2.3 million Lab-Corps Initiative officially commenced in October, following a successful pilot kicked off late last year. Modeled on the outstanding Innovation Corps program developed by the National Science Foundation, Lab-Corps is another tool in the EERE arsenal to accelerate the commercialization of clean energy innovation.
Four pilot standouts have already demonstrated that the model is working. Jeff Koplow of Sandia National Laboratories, for example, pioneered an award-winning Twistact technology – a device that eliminates high-maintenance components in wind generators and cuts weight and construction costs while reducing our dependence on rare earth elements. Along with seasoned investors and entrepreneurs, Koplow's team was able to secure a patent for this novel approach within 18 months, without any adjustments to his claims. EERE awarded $75,000 to each of the teams to develop commercialization plans for their advanced technologies.
In the first round, six talented teams from small businesses and four from our national labs – represented by a lab innovator, an industry mentor, and an entrepreneur – will spend six weeks and $150,000 in an entrepreneurial boot camp managed by the National Renewable Energy Laboratory. Other participating national laboratories include Argonne, Brookhaven, Fermi, Idaho, Lawrence Berkeley, Lawrence Livermore, Pacific Northwest, and Sandia. 
The program offers a suite of commercialization resources and tools, including direct market feedback on team technologies and guidance for pursuing start-up companies, industry partnerships, licensing and other business opportunities. Ultimately, these innovative models and their resulting metrics will yield best practices that can support potential full-scale implementation of the Lab-Corps program across the entire DOE national laboratory space.
Learn more about this game-changing initiative on our website.