You are here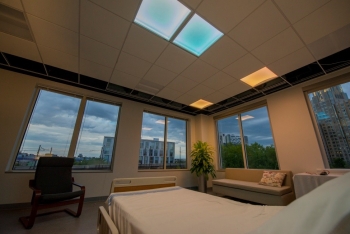 LED patient room lighting system. Photo Courtesy|Philips Lighting Research North America
Healthcare accounts for 9% of the energy used in U.S. commercial buildings, and lighting represents the largest electricity use in all of healthcare. But as scientists learn more about light's nonvisual effects—such as the role it's known to play in suppressing the release of melatonin, a hormone that helps control the sleep-wake cycle—it's becoming increasingly clear that light-emitting diode (LED) healthcare lighting offers an opportunity to address more than just visual needs. Energy-efficient LED lighting is more easily controllable than other lighting technologies and can be tuned to provide different colors of light. When used in a healthcare setting, it has the potential to make patients more comfortable, speed up the healing process, and shorten their stays.
With the help of DOE funding, Philips Lighting Research North America is developing an innovative prototype LED patient-suite lighting system that's not only energy-efficient, but goes beyond meeting the visual needs of patients, caregivers, and visitors to also meet their nonvisual needs. In addition to providing the right amount of light needed for the application, the new lighting system is designed to provide functionality that:
connects the patient with the outdoors by a novel "skylight-type" luminaire;
delivers a high-quality nighttime lighted environment that enhances safety by employing amber lighting at night, and luminaires that facilitate navigation about the room; and
increases patient and family satisfaction and improves caregiver environment and workflow.
The new system's technology platform offers color tuning and adaptive behaviors as well as fast and simple installation and commissioning, plus individual luminaire "personalities" that provide diverse functionality for delivery of white and colored light and for control and energy management. It will also make use of occupancy, daylight, and user controls, with intuitive user-control interfaces for patients, family, and caregivers. The new system is targeted to reduce energy use in each room by 40% compared to traditional incumbent technologies. The prototype multichannel boards have efficacies as high as 137 lumens per watt color rendering indices (CRI) of 80+, and a correlated color temperature (CCT) range from 2700K–6500K. Their four channels allow them to produce a wide range of color combinations in addition to white.
Using multichannel LED platforms and advanced controls, the system will give patients and staff a very different lighting experience from what's currently used in the market today. The CCT will adjust throughout the day, from "warm" sunrise-type colors in the morning to "cooler" white at midday, and back to warm in the evening, in order to optimize sleep patterns and nighttime safety of the patients. When the bathroom lights are turned on in the middle of the night, they'll come up gradually to allow the patient's eyes to adjust. The system will also better equip staff to provide excellent care by improving the quality of lighting—for example, through reduced glare and better controllability—relative to the incumbent system. 
"DOE funding was instrumental in helping us develop this lighting solution, which we believe meets the challenge of creating a healing environment that enables all users—patients, staff, and family—to perform well, heal comfortably, and tailor their environment to individual needs, while saving energy," says Dorene Maniccia of Philips Lighting Research North America.
The Philips Lighting Research team also partnered with Pacific Northwest National Laboratory to evaluate nursing and caregiver satisfaction with existing lighting systems, conducting surveys at four Pacific Northwest hospitals. The responses—covered in an informative DOE webinar—indicated that having high-quality lighting color for evaluating skin tones; having flexible and comprehensive lighting control for patients, visitors, and caregivers; reducing glare and flicker; and having the right amount of light in a uniform pattern that reduces shadows are all critical for patient-room lighting solutions. 
Project Overview
Project Partners
Philips Lighting Research North America
Applications
Benefits
System energy performance 40% below that of incumbent technologies
Manual controls and overrides for the patient, visitors, and caregivers
Enhanced patient safety due to design solutions that facilitate navigation about the room
Increased patient and family satisfaction and improved caregiver environment and workflow
Contact Information
Joel Chaddock, Solid-State Lighting Project Manager, NETL
DOE Funding
$497,127, with a cost-share of $165,709