You are here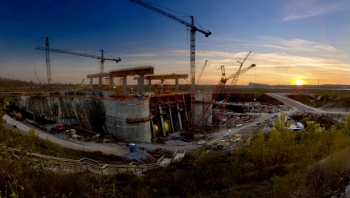 The Energy Department's 2014 Hydropower Market Report was released last month in an effort to provide taxpayers and industry professionals with a snapshot of the growing hydropower industry in the United States. The first-ever report details data collected over the past decade and highlights the continued trend of bolstering the U.S. hydropower fleet and its energy capacity.
From 2005 to 2013, the nation's net energy capacity from hydropower increased by 1.48 GW, made possible by newly installed hydropower technologies. The U.S. hydropower fleet is now producing roughly 7% of the total installed electricity generation capacity, or 79.64 gigawatts, enough to power more than 20 million homes. Hydropower growth was positive in every region of the country over the past decade, but was largest in the Northwest, where more than 580 megawatts (MW) were added.
The U.S. hydropower fleet has provided renewable energy for more than a century, however no systematic documentation existed of the U.S. fleet and the trends influencing it in recent years. This Hydropower Market Report filled the gap and provided industry and policy makers with a quantitative baseline on the distribution, capabilities, and status of hydropower in the United States. Download the data for the report at the ORNL NHAAP website. 
The Office of Energy Efficiency and Renewable Energy (EERE) success stories highlight the positive impact of its work with businesses, industry partners, universities, research labs, and other entities.