You are here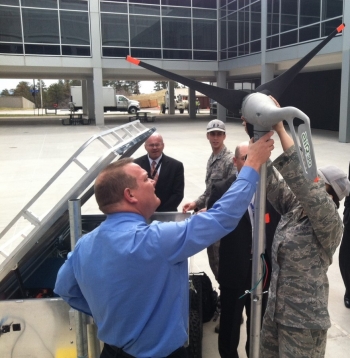 Air Force Academy staff and cadets showing FEMP directors the technical highlights of a trailer designed to collect and store solar and wind energy to power an electric expeditionary vehicle indefinitely. Photo Courtesy | Oak Ridge National Laboratory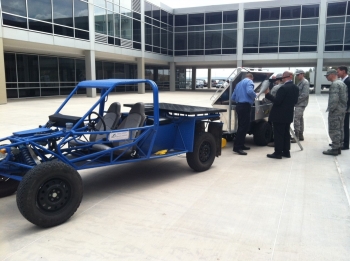 Air Force Academy staff and cadets showing FEMP directors the technical highlights of a trailer designed to collect and store solar and wind energy to power an electric expeditionary vehicle indefinitely. Photo Courtesy | Oak Ridge National Laboratory
Five years ago, the Energy Department's (DOE) Federal Energy Management Program (FEMP) considered ideas on how to better engage the five federally funded service academies; the result equaled energy-saving solutions to major energy challenges.
FEMP's Service Academy Awards Program reaches out to the officers-in-training and faculty to expand relationships between DOE and other federal agencies. Of particular interest is reducing energy consumption within the Defense Department, which is responsible for approximately 80% of federal energy usage.
The Office of Energy Efficiency and Renewable Energy's (EERE) FEMP program has helped military personnel develop innovative ideas to solve major energy and environmental challenges. The U.S. Army, U.S Navy, U.S. Air Force Academy, U.S. Coast Guard, and Merchant Marine Academy all have different cultures, and the Service Academy Awards was designed to build on these cultures by integrating elements from each service. Cadets at the Air Force Academy, for instance, have high interest in aviation energy issues while cadets at West Point are keen to focus on soldier-level power issues.
Researchers in DOE's national laboratories work closely with cadets and midshipmen from all academies. The goal is to stimulate multiple projects and then recognize extraordinary efforts by individuals or teams with an award presented at the end of the academic year.
Dan Howett, an engineer at DOE's Oak Ridge National Laboratory, and an '87 West Point graduate, believes these awareness campaigns are designed to promote the knowledge of energy efficiency and renewable energy. He and other national laboratory staff provide technical assistance ranging from industrial energy technologies to micro-hydro site selection. This advice is offered to participating cadet teams and to make sure they're aware of Energy Department and national lab resources.
The Air Force Academy has had students focus on an electric vehicle, an expeditionary dune buggy, with a tow-behind trailer powered by solar. And they are not the only ones. The Merchant Marine Academy is currently working on a small boat with an electric motor run by fuel cells. A team of West Point cadets and faculty is working on a soldier housing unit that uses structural insulated panels.
And one of the very first winning projects was completed by a cadet from the Merchant Marine Academy who worked out the math on merchant vessels with a standby generator. He looked at advanced solar cells and whether there was enough deck area to install solar panels to power a ship when in port. The team discovered the answer was yes.
These lessons show cadets the value of their projects and how they can make a difference if transferred and applied on a wider scale.
Many cadets and midshipmen realize early in their academy experiences that energy is a key part of their training. The liabilities and resulting casualties in resupply operations on the front lines create unique leadership challenges the students are tasked to evaluate. Jerry Davis, a '97 Naval Academy graduate and liaison who coordinates technical support between National Renewable Energy Laboratory experts and the students, agrees that the energy landscape has changed dramatically since they were cadets.
For example, in the 1980s when Howett was a cadet and young officer, a soldier's electrical needs were fairly simple. "A flashlight with D-cell batteries was all that most of us used," he said.
Currently, soldiers have far more complex requirements for electrical energy.  Flashlights, night vision goggles, various communication devices, and occasional small computers all consume power. If a soldier tries to sneak a smartphone into their pack so they can call home, it requires energy that could otherwise be used to support the mission – and that smartphone has to be accounted for.
Today, these projects are providing energy-saving solutions to the many challenges Americans face. They are teaching men and women in the military that their efforts can change the way we tackle these problems and inspiring them to be future leaders of our nation.