You are here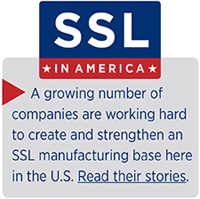 This page contains links to weekly Postings from the U.S. Department of Energy (DOE) Solid-State Lighting Program. The Postings provide updates from DOE on solid-state lighting program events, as well as timely discussions of critical issues impacting the development and acceptance of solid-state lighting.
If you wish to link to or reference an issue of the Postings, we ask that you comply with the following requirements:
Request permission from the U.S. Department of Energy, describing the purpose for making use of the Postings and providing a basic profile of your audience
Provide proper attribution to DOE and context for the Postings message, using the description provided at the top of this page so the Department of Energy is given appropriate acknowledgement.
To reference a specific issue of the Postings in its entirety, link to the PDF file posted on the DOE SSL website, rather than downloading the file to another web server per EERE's web policy.
Provide the DOE SSL Program a link to your use of the Postings to facilitate ongoing participation and collaboration by DOE.
Do not use Postings material to state or imply DOE endorsement of a commercial product, service, or activity; or use it in any other manner that might mislead the public.
Note that the fast pace of solid-state lighting technology and market developments often renders last month's news obsolete, so interested readers should stay tuned on a weekly basis. To add your name to the Postings mailing list, contact postings@akoyaonline.com.
December
Dec. 17, 2014: What's Next for SSL?
Dec. 10, 2014: Even Deeper Energy Savings
Dec. 2, 2014: The Outlook for SSL Manufacturing in the U.S.
November
Nov. 24, 2014: A Special Note of Thanks
Nov. 20, 2014: Thoughts on the Detroit Workshop
Nov. 12, 2014: Taking It to the Streets in the Motor City and Beyond
Nov. 5, 2014: The Safety of LED Lighting
October
Oct. 28, 2014: Updated Recommendations for Testing and Reporting LED Luminaire Reliability
Oct. 21, 2014: SSL in America—Spotlight on Noribachi
Oct. 14, 2014: OLED Update
Oct. 9, 2014: Major Report on Longer-Term Performance of LED Lighting in the Field
Oct. 1, 2014: November Workshop Delivers Diverse Perspectives on Today's Toughest Lighting Issues
September
Sept. 23, 2014: SSL in America—Spotlight on the Kurt J. Lesker Company
Sept. 17, 2014: Next Generation Luminaires Indoor Winners Announced
Sept. 12, 2014: Forecasted Energy Savings from LED Lighting
August
Aug. 25, 2014: Maximizing Dimming Success at the Burden Museum
Aug. 20, 2014: CALiPER Application Summary Report: LED MR16 Lamps
Aug. 12, 2014: GATEWAY Report—LED Lighting in a Performing Arts Setting
Aug. 5, 2014: CALiPER Snapshot—LED Outdoor Area Lighting
July
July 28, 2014: CALiPER Snapshot: Indoor LED Luminaires
July 21, 2014: SSL in America—Spotlight on OLEDWorks
July 15, 2014: Save the Date: January 27–29, 2015
July 7, 2014: DOE's SSL Program—Big Bang for the Buck
June
June 30, 2014: LED Lighting and Health
June 25, 2014: SSL in America—Spotlight on nTact
June 18, 2014: LED Troffer Lighting
June 13, 2014: Observations from LIGHTFAIR
June 2, 2014: A Not-So-Small Group That's Making a Mighty Big Difference
May
May 28, 2014: If You're Going to LIGHTFAIR
May 19, 2014: Thoughts on the San Diego Workshop
May 6, 2014: SSL in America—Spotlight on USAI Lighting
April
Apr. 29, 2014: LED Color Stability
Apr. 22, 2014: LED PAR38 Lamps
Apr. 16, 2014: A Not-to-Be-Missed "Meeting of the Minds"
Apr. 8, 2014: SSL in America—Spotlight on EYE Lighting
Apr. 1, 2014: What Goes Around Comes Around
March
Mar. 25, 2014: A New CALiPER Snapshot of LED MR16 Lamps
Mar. 11, 2014: SSL in America—Spotlight on Xicato
Mar. 4, 2014: LED Lumen Maintenance and Light Loss Factors
February
Feb. 27, 2014: Next Generation Luminaires Outdoor Winners Announced
Feb. 18, 2014: Pedestrian-Friendly Outdoor Lighting
Feb. 10, 2014: Early Lessons Learned in Bringing SSL to Market
Feb. 5, 2014: Thoughts on the Tampa Workshop
January
Jan. 28, 2014: Lifetime and Reliability
Jan. 21, 2014: SSL in America—Spotlight on Trovato Manufacturing
Jan. 13, 2014: A Look Ahead at DOE's 11th Annual SSL R&D Workshop
Jan. 7, 2014: 2013 in Review