You are here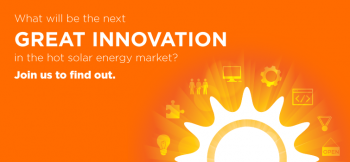 SAN FRANCISCO – Members of the media are invited to attend the U.S. Department of Energy SunShot Initiative's Catalyst prize Demo Day in San Francisco on Thursday, May 14.
The SunShot Catalyst prize program is designed to address many of the challenges preventing ubiquitous, affordable solar energy deployment by connecting American innovators to the tools, capabilities, data assets, and resources developed by the Energy Department and its national laboratories. The competition leverages each of these assets to launch cutting-edge solar companies and tackle time-sensitive market challenges.
On Demo Day, 17 finalists who have successfully completed the competition's ideation, business innovation, and prototyping contests will publicly demonstrate their products to a panel of judges. The five winners will be eligible for up to $100,000 to help bring their early stage solutions to market. Audience members will participate by voting live on their favorite business pitches.
Members of the media will have access to SunShot leaders and members of the competing teams. To request media registration or to pre-schedule interviews with DOE spokespeople, please contact Jamie Nolan at jamie.nolan@ee.doe.gov.
WHO:
- SunShot leadership, including SunShot Initiative Director Minh Le
- 17 competing start-up teams
- Speakers including:
   -  Jenn Gustetic , Assistant Director for Open Innovation , The White House
   -  Robert M. Hoehn, Co-Founder and CEO, IdeaScale
   -  Chris Redlitz, Managing Partner, Transmedia Capital
WHAT:
2015 SunShot Catalyst Prize Demo Day
WHERE:
Galvanize, 44 Tehama Street, San Francisco, CA 94105
WHEN:
May 14, 2015, 9:00am – 6:00pm PT
REGISTER:
Email Jamie Nolan at jamie.nolan@ee.doe.gov for a free media pass.
Media Resources
About the SunShot Initiative
The SunShot Initiative is a collaborative national effort launched in 2011 that aggressively drives innovation to make solar energy fully cost-competitive with traditional energy sources before the end of the decade. Through SunShot, the Energy Department supports efforts by private companies, universities, and national laboratories to drive down the cost of solar electricity to $0.06 per kilowatt-hour. SunShot is working to make it faster, easier, and cheaper for Americans to choose solar energy in their daily lives. Learn more at energy.gov/sunshot.