You are here

Santa Clara Valley Transportation Authority
(VTA) is based in San Jose, California, and provides service in and around Santa Clara county. VTA provides bus and light rail service in Santa Clara County, as well as congestion mitigation, highway improvement projects, and countywide transportation planning. VTA's 423 buses serve an annual ridership of more than 39 million and cover approximately 326 square miles.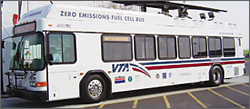 The organization adopted a Clean Fuels Strategy in December 2000, which included a zero-emission bus program. In 2002, VTA entered into contract with Gillig Corporation and Ballard Power Systems to procure three low floor fuel cell buses. VTA is working with the San Mateo County Transit District (SamTrans) to demonstrate these fuel cell buses. The buses have been in service since late February 2005. NREL completed the evaluation at VTA in late 2006.
For more information on VTA's Zero Emission Bus Program, visit www.vta.org/remove/projects-studies-and-programs-zeroemission-bus-demonstration-program.
Contact Leslie Eudy at (303) 275-4412 for more information about DOE's evaluation project with VTA.
Related Publications