You are here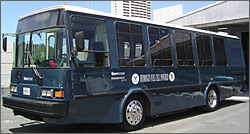 Hickam Air Force Base
spans 2,850 acres in Honolulu, Hawaii. The military base is home to the 15th Airlift Wing, the Hawaii Air National Guard, and the Pacific Air Forces headquarters.
With support from the Hawaii Center for Advanced Transportation Technologies and the Air Force Advanced Power Technology Office, Hickam added a fuel cell hybrid electric bus to its fleet in 2004. NREL is collecting data on the 30-foot bus in service on the base. The information will be used to determine the status of fuel cell technology in heavy vehicle applications.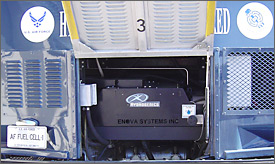 A battery-dominant hybrid fuel cell system by
Enova Systems
powers the bus. This system draws primarily on traction batteries to provide power for propulsion. A small 20kW fuel cell by
Hydrogenics
charges the batteries and extends the driving range. The bus also uses regenerative braking to convert kinetic energy from the motion of the bus to electrical energy, which is stored in the batteries.
Contact Leslie Eudy at (303) 275-4412 for more information about DOE's evaluation project with Hickam Air Force Base.
Related Publications