You are here

AC Transit
(or the Alameda-Contra Costa Transit District) is based in Oakland, California, and provides transportation services to the East Bay of San Francisco. The 360-square-mile service area includes 13 cities and adjacent unincorporated areas in Alameda and Contra Costa counties. AC Transit's approximately 638 vehicles serve more than 65 million annual passengers.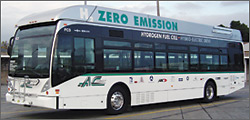 After having the opportunity to test early prototype fuel cell buses, AC Transit began plans to add these zero-emission buses to its fleet. In 2003, the agency entered into an agreement with ISE Research and UTC Fuel Cells to procure four 40-foot fuel cell hybrid buses for its demonstration program (three buses to be operated by AC Transit, one to be operated by SunLine Transit Agency). The buses went into service in March 2006. Data collection is in progress.
Go to AC Transit's HyRoad Program website to learn more about the agency's fuel cell efforts.
Contact Leslie Eudy at (303) 275-4412 for more information about DOE's evaluation project with AC Transit.
Related Publications