You are here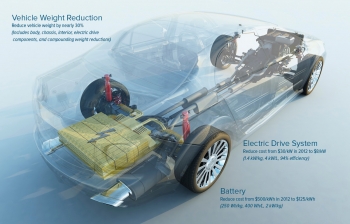 The U.S. Department of Energy (DOE) Vehicle Technologies Office (VTO) combines research and development, outreach and education, and partnership-building.  These activities:
Improve the competitive position of U.S. industry and create jobs through American innovation
Enhance energy security by reducing our dependence on foreign oil
Save money by cutting fuel costs for American families and businesses
Protect our health and safety by mitigating the impact of energy production and use on climate change.
Accomplishing these outcomes requires partnership among the private sector, the Federal government, states and communities, national laboratories, universities, nongovernmental organizations, and individual consumers. Some of these partnerships include:
In addition to collaborating with outside stakeholders, VTO is working closely within the DOE, with the Office of Science, Office of Electricity, and ARPA-e.  Research and development focuses on development of advanced batteries, electric drive systems, and lightweight materials. 
The broad steps DOE and industry need to take to meet these goals include aggressive, technology-specific, "stretch goals" established in consultation with stakeholders. Achieving these goals can enable the purchase cost combined with the operating cost of an all-electric vehicle with a 280-mile range to be comparable to that of an internal combustion engine vehicle of similar size after five years of ownership.