Innovation spurs progress in all facets of the economy. Specifically, innovation is powering the clean energy revolution. As the United States brings new ideas, methods, devices, and changes to the energy industry, Americans reap the numerous benefits of a clean energy economy.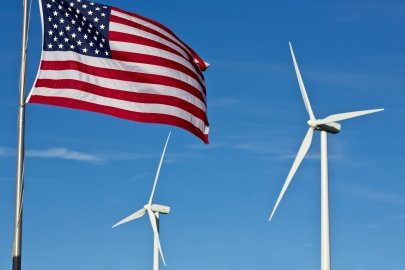 Why Clean Energy Matters
Transitioning the United States to a clean energy economy enhances economic growth, energy independence, and the health and well-being of the American people.
Learn more
As an integral part of our everyday lives, energy provides light, heat, cool air, and clean water; operates our businesses, industry, and transportation; keeps our devices running; and more. The U.S. Department of Energy (DOE) invests in people and ideas to advance cost-effective, emerging technologies and develop clean energy innovations that will boost the U.S. economy and create quality jobs, while combatting climate change, advancing America's energy independence, and securing our power grid.
As America's innovation engine, DOE funds the research, development, demonstration, and deployment of renewable energy, energy-efficiency, and sustainable transportation technologies to provide clean, affordable, reliable energy for all. 
How EERE Sparks Energy Innovation
Funding
DOE's Office of Energy Efficiency and Renewable Energy (EERE) regularly issues funding opportunities—through its 11 technology offices and the Small Business Innovation Research/Technology Transfer (SBIR/STTR) programs—to obtain and explore new ideas from diverse innovators for clean energy technologies.
Prizes and Competitions
DOE's American-Made Challenges (AMC) are prize competitions that award funding and technical support to teams of entrepreneurial clean energy innovators for ideas they transform into prototypes on an accelerated timeline. EERE supports collegiate and other competitions, too.
National Laboratories
DOE's 17 national labs have state-of-the-art facilities, tools, capabilities, and expertise to translate science into innovation and tackle our most critical scientific challenges. The National Renewable Energy Laboratory provides AMC competitors with technical and business support by connecting them with technology incubators and accelerators, venture capital firms, angel investors, and industry representatives to help speed the development and commercialization of their innovations.
Technical Assistance
EERE offers technical assistance (TA) to communities; local, tribal, and state governments; building professionals; manufacturers; utilities; developers and others to help meet their specific energy planning, efficiency, and implementation needs. TA is customizable and can include tools, best practices, assessments, training resources, facilitating strategic partnerships, and more.
Innovative Clean Energy Solutions
Subscribe to The Weekly Jolt
The Weekly Jolt is a digest of the top clean energy news, tips, events, and information from DOE and EERE.
Follow our Funding Listserv
Sign-up to receive the latest information about EERE's clean energy funding, prize, and competition opportunities.