You are here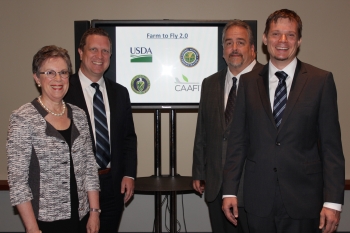 Catherine Woteki (from left), Under Secretary for Research, Education, and Economics, U.S. Department of Agriculture; David Danielson, Assistant Secretary for Energy Efficiency and Renewable Energy; Steve Csonka, Executive Director, Commercial Aviation Alternative Fuels Initiative; Jim Hileman, Chief Scientific and Technical Advisor for Environment, Federal Aviation Agency; stand together at Biomass 2014 in Washington, D.C., where the Energy Department announced it is joining Farm to Fly 2.0. | Energy Department photo
The United States airline industry uses 23 billion gallons of fuels on passenger and cargo airlines annually, and globally, the international airline industry was the source of 777 million tons of carbon emissions in 2013. Fossil fuel costs are the largest expense for the airline industry and, unlike passenger cars, which can run on electricity, liquid fuels are still the only viable fuel source for this sector.
To help address this problem, the U.S. Department of Agriculture, aviation trade organization Airlines for America, and aircraft manufacturer Boeing established the Farm to Fly initiative, which aims to develop a commercially viable aviation biofuel industry for the United States. The program was extended for five years last April with the addition of the Transportation Department's Federal Aviation Administration and major private partners such as the Commercial Aviation Alternative Fuels Initiative. The new initiative, now called Farm to Fly 2.0, works to increase the nation's supply of renewable jet fuel with the end goal of producing about 1 billion gallons of drop-in aviation biofuels a year by 2018.   
During the recent Biomass 2014 conference, Assistant Secretary for Energy Efficiency and Renewable Energy David Danielson announced that the Energy Department is joining Farm to Fly 2.0 to support the development of sustainable biofuels that require no jet engine modifications. As part of the initiative, the Energy Department will provide technical guidance on alternative fuel production and assist with the process of jet fuel certification, testing, and qualification. The Energy Department is already funding research and development and pilot- and demonstration-scale projects that produce renewable diesel and jet fuel for military and civilian use.
Farm to Fly 2.0 will also enable the Energy Department to strengthen its current role in the Federal Aviation Administration's newly formed Center for Alternative Fuels and Environment. Through Farm to Fly 2.0, the Energy Department, Department of Agriculture, Federal Aviation Administration, and aviation industry partners are creating an increasingly vibrant and robust alternative jet fuel sector that will contribute to a thriving bioeconomy, improve rural communities, create jobs, and ensure a more secure and environmentally sound energy future for the United States.