You are here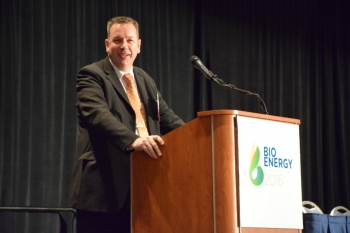 Bioenergy Technologies Office (BETO) Director Dr. Jonathan Male speaking at Bioenergy 2016: Mobilizing the Bioeconomy through Innovation.
Biofuels Digest
has released its list of the "
Top 100 People in the Advanced Bioeconomy 2017
," and the U.S. Department of Energy's (DOE's) Bioenergy Technologies Office (BETO) Director Dr. Jonathan Male comes in at number five, up from
number six in 2016
. Prior to becoming the director of BETO in 2013, Dr. Male worked with DOE's Pacific Northwest National Laboratory and with the GE Global Research Center. In total, he has more than 17 years of experience in biofuels, catalysts, and production of chemicals, as well as the development and execution of research programs.
Each year, Biofuels Digest, a well-established online biofuels trade publication, and its readers nominate and vote on the most influential leaders and pioneers in advancing the research, development, and distribution of biofuels. 
BETO collaborates closely with the U.S. Department of Agriculture (USDA) to develop complementary programs to strategically build the bioeconomy, and three USDA employees shared the rank of 32 on the list—Dr. Harry Baumes, Chris Cassidy, and Todd Hubbell. Three leading researchers at DOE's National Renewable Energy Laboratory shared number 59 on the list, up from 61 last year—Dr. Philip Pienkos, Dr. Thomas Foust, and Dr. Helena Chum. BETO also collaborates with the U.S. Navy, from which Chris Tindal was ranked 68, and the U.S. Environmental Protection Agency, from which Christopher Grundler was number 100 on the list.
Number one on
Biofuels Digest's
top 100 people in the advanced bioeconomy this year is Dr. Jennifer Holmgren, Chief Executive Officer of LanzaTech. Partially supported by BETO, this past fall
LanzaTech produced 1,500 gallons of renewable jet fuel
from industrial waste gases. LanzaTech provides just one example of many BETO-supported projects that are represented on the top 100 list.
These high rankings of federal government staff and DOE-supported projects showcase the Bioenergy Technologies Office's role in concretely moving the advanced bioeconomy forward to commercialization.
Congratulations to all who made Biofuels Digest's Top 100!