You are here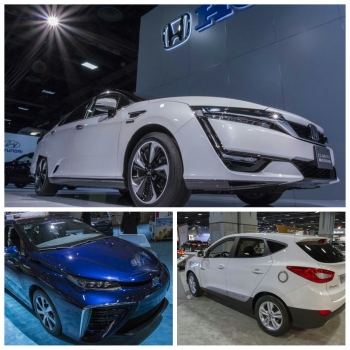 Toyota's Mirai, Hyundai's Tucson, and Honda's Clarity, the first commercially available fuel cell electric vehicles (FCEVs) in the United States. They are currently on display at the 2016 Washington Auto Show | Photos by Simon Edelman, Energy Department
As EERE hits the ground running in 2016, let's take a minute to celebrate our hard work in 2015 that advanced hydrogen and fuel cells to where they are today. From research and development, to real-world deployment, 2015 was a landmark year for the hydrogen and fuel cell industry.
Without a doubt, the most notable development was the launch of commercially available fuel cell electric vehicles (FCEVs). Hyundai is leasing its Tucson FCEV and Toyota is selling and delivering its Mirai FCEV, right on track with original plans for research and development (R&D) resulting in commercial decisions by the 2015 timeframe.
With so much U.S. Department of Energy (DOE) supported activity in the last year, only a few FCTO highlights are summarized below.
Tracked the impact DOE funding for R&D in the hydrogen and fuel cell industry, resulting in more than 580 patents granted, 45 commercial technologies in the market, and 65 technologies that are projected to be commercial in three to five years, according to stakeholders.
 
Demonstrated that laboratory state-of-the-art technology can achieve a modeled automotive fuel cell system cost of $53/kW when projected at 500,000 units/year ($60/kW at 100,000 units/year)--a 35% cost reduction since 2008 and increased durability four-fold since 2006.
 
Launched two lab-led consortia projects—Fuel Cell Performance and Durability (FC-PAD) and Hydrogen Materials—Advanced Research Consortium (HyMARC).
 
Accelerated hydrogen production R&D, identifying more than 200 promising materials out of 1,000 screened for solar thermochemical hydrogen production.
 
Ramped up independent technology validation of FCEVs on the road, bringing the total to 220 vehicles from six automakers and 6 million miles of driving with a solid track record of performance.
 
Launched the world's first hydrogen station in the United States to receive the seal of approval for commercial sale of hydrogen fuel, located in West Sacramento, California.
 
Developed a prototype device that could be used to validate hydrogen fueling station performance. The Hydrogen Station Test Equipment Performance device (HySTEP) dramatically reduced the time and funding required to fully commission and validate stations.
Moving forward into 2016, the Fuel Cell Technologies Office will continue its mission to enable the widespread commercialization of hydrogen and fuel cell technologies as part of the Energy Department's portfolio addressing the energy, environmental, and economic security of the nation.