You are here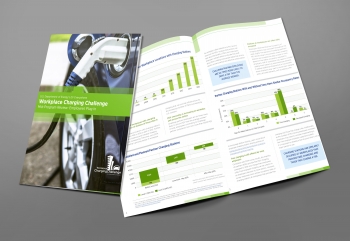 The EV Everywhere Workplace Charging Challenge is celebrating a major milestone – it's now halfway to its goal of 500 Challenge partners committed to installing workplace charging for plug-in electric vehicles (PEVs) by 2018. Since its launch nearly three years ago, more than 250 employers have joined as Challenge partners and the installation of workplace charging as a sustainable business practice is growing across the United States. Their efforts have resulted in more than 600 workplaces with over 5,500 charging stations accessible to nearly 1 million employees. Today, more than 9,000 PEV-driving employees are charging at these worksites on a regular basis. Our new Workplace Charging Challenge Mid-Program Review reports this progress and other statistics related to workplace charging, including employee satisfaction and charger usage.
The Mid-Program Review highlights a number of trends – among them, that both employers and employees increasingly value workplace charging. Challenge partners are leading charging infrastructure deployment in their communities and driving PEV adoption among their staff. The number of planned and installed partner charging stations has increased by 70% since June 2014, and with 90% of employers having received positive feedback from their staff, it's clear that workplace charging is an innovative employee benefit. In fact, Challenge partner employees are six times more likely to drive a PEV than the average worker. As a result, partners are enthusiastic about the emissions reductions enabled by their employees' commutes. Workplace charging efforts made by our partners eliminated 17 million pounds of greenhouse gas emissions just this year, equivalent to each company removing more than nine average gasoline vehicles from U.S. roads. Employers are now going above and beyond in their leadership role in the development of the nation's charging infrastructure; more than half are sharing their experiences and helping other employers with their workplace charging efforts. 
Workplace Challenge partners share their best practices by publishing profiles on the Challenge website, providing key PEV charging data, and submitting a workplace charging plan. This year, the Energy Department recognizes the following 27 employers for executing all three of these actions: City of Beaverton, OR; DIRECTV; El Camino Real Charter High School, CA; Florida Power & Light Company; Freudenberg-NOK; Hewlett Packard; Intel; JEA; Kohl's; Lane Regional Air Protection Agency; Legrand; Lewis and Clark Community College; National Renewable Energy Laboratory; Nissan; North Central College; Pacific Gas & Electric; Oak Ridge National Laboratory; Prairie State College; Salt River Project; SAS Institute; Sears Holdings; SolarWorld; Southern Company; Suffolk County Community College; Thomas College; University of Maine; and University of North Carolina at Pembroke.
Learn more about how your organization can join the Workplace Charging Challenge or contact us at WorkplaceCharging@ee.doe.gov.