You are here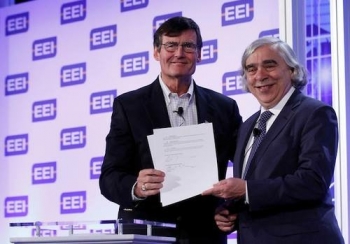 Tom Kuhn, President of EEI and Secretary Moniz at the MOU signing on Monday, June 8, at Edison Electric Institute (EEI) Annual Convention in New Orleans, LA. | Photo courtesy of EEI
This week, I was in New Orleans with Secretary Moniz at Edison Electric Institute's (EEI) Annual Convention. Directly across the street from the venue is a stop for the St. Charles Avenue streetcar, the world's oldest continuously running streetcar line. When it was established in 1835, it ran on steam power, then horsepower, and finally to electricity (the power system still used today), which we know results in even lower net emissions than gas-powered vehicles.
Not every American city has a storied and energy efficient streetcar line, but with U.S oil consumption at one-fifth of the world's total and our transportation system producing a third of the country's carbon pollution, improving plug-in electric vehicle (PEVs, which are also called EVs or electric cars) technology and increasing the number of plug-in electric vehicles on the roads is essential.
That's something that we are working to address at the Energy Department with our EV Everywhere Grand Challenge. Announced by President Obama in March 2012, the initiative focuses on the United States becoming the first nation in the world to produce PEVs that are as affordable for the average American family by 2022 as a 2012 baseline gasoline-powered vehicle.
We're making incredible progress. Nearly 120,000 electric vehicles were sold in the United States in 2014, a 23% jump from 2013 and a 128% jump from 2012. The selection of models is on the rise, with more than 31 new plug-in hybrid and all electric vehicles available from 11 automakers. And, more than 9,000 public charging stations and more than 1,700 private, non-residential charging stations are currently installed in the United States.
But, it's still an ambitious goal and one that will take more than just the federal government's work to reach. That's why Secretary Moniz signed a new Memorandum of Understanding (MOU), the EV Everywhere Utility Partnership or EV Everywhere UP, with EEI President Tom Kuhn at EEI's Annual Convention.
This partnership commits the Energy Department and EEI to advance our mutual goals of increasing the economic, environmental, and national security benefits from using electricity as a transportation fuel and expanding the electric vehicle market by bringing utilities directly into the fold.
This partnership between the Energy Department and EEI represents a new, targeted approach to increase electric vehicle readiness, especially in the workplace, by coordinating the Energy Department's EV Everywhere Workplace Charging Challenge with EEI's new Employee PEV Engagement Initiative.
The MOU will also commission a study to examine the future national economic impacts of electric transportation and the effectiveness of utility investments in electric transportation related activities. The partnership will also ramp up efforts to educate the public on the benefits of this critical clean energy technology.
The transition from gas-powered to plug-in electric vehicles will require changes at every level of government, so this partnership will not only work with other federal agencies, including Department of Transportation (DOT), General Services Administration (GSA), Council on Environmental Quality (CEQ), and the White House, but it will also encourage collaboration with states to break down barriers to driving on electricity and expand electric vehicle opportunities in communities across the country.
Finally, we know utilities have a major role to play in this space so this partnership will explore opportunities for utilities to engage with the Energy Department's Grid Modernization Laboratory Consortium to better understand how electric vehicles impact the electric grid and to use the labs for research, development, testing, and analysis.
We are looking forward to continue the strong collaboration between the Energy Department and EEI with this new relationship and to further our efforts to create sustainable solutions to reduce the nation's dependence on carbon-based fuels, strengthen our economy, and protect the planet for future generations. 
I also want to announce an exciting new addition to our Vehicles Office. Bob Graham was recently appointed as the Director of the EV Everywhere Challenge. Bob actually came out of retirement to help the Energy Department lead the charge in expanding the electric vehicles market.
Bob has a storied career in the electric vehicle space, holding recent positions at Southern California Edison and the Electric Power Research Institute (EPRI) in Palo Alto, California.  During his time at EPRI, Bob helped to develop the nation's focus on plug-in hybrid electric vehicles (PHEVs) and travelled extensively throughout the United States and around the globe to provide education on the benefits of PHEVs.
We are thrilled to welcome Bob to the Energy Department and look forward to the direction he will steer our EV Everywhere Challenge!