You are here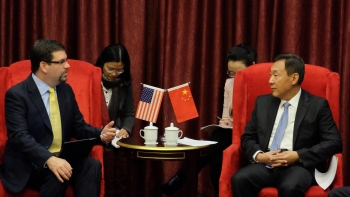 David Friedman (left), acting Assistant Secretary for Energy Efficiency and Renewable Energy, speaks with Zhang Yong, Vice Chairman of China's National Development and Reform Commission, during the U.S.-China Energy Efficiency Forum in Beijing.
Climate change is a challenge too large for any single country to solve alone.
So it was a major step forward when 72 countries enabled the Paris Climate Agreement to formally come into force on Nov. 4. With this milestone, the globe's leading industrialized and developing countries have formally committed themselves to reducing their carbon footprint.
One of our critical partners in this global effort is China. As the world's two largest economies – and the two largest emitters – our countries have a unique obligation to lead the world in transitioning to a low-carbon economy.
Just a few weeks ago, I saw up close how China is working to live up to its commitment when I was privileged to lead the U.S. delegation to Beijing for the 7th U.S.-China Energy Efficiency Forum (EEF).
As we often like to say, "the cheapest, cleanest energy is the energy you never use." Efficiency remains an increasingly important part of the emerging clean energy revolution – and the EEF is an invaluable forum for sharing best practices and lessons learned.  
This year we announced nine new U.S.-China Energy Performance Contracting Pilot Projects that use innovative financing models and integrated systems approaches to achieve energy savings. These projects will bring U.S. and Chinese companies together to boost the energy efficiency of buildings in China by at least 20% and reduce greenhouse gas emissions.
During the trip, the U.S. delegation held a number of productive meetings with government and industry that will serve to strengthen our bilateral cooperation. These stakeholders included U.S. companies based in China and the U.S.-China Energy Cooperation Program (ECP), a non-profit public-private partnership that leverages business resources in both countries to promote the development of clean energy solutions.
We also recognized U.S. and Chinese partners who signed six Memoranda-of-Understanding, including new partnerships on building and efficiency standards. These include the following collaborations:
U.S. Energy Cooperation Program (ECP) and China National Institute of Standards (CNIS): To further promote and participate in China's low-carbon green development process, ECP and CNIS seek to increase their cooperation in the development of energy efficiency, renewable energy, and monitoring and verification standards and in support of the U.S.-China clean energy frameworks like the EEAP.
Lawrence Berkeley National Laboratory (LBNL) and Shenzhen Institute of Building Research Co., Ltd. (SIBR): LBNL and SIBR will collaborate on research and developing policy frameworks and business models for building energy efficiency, sustainability and renewable energy. This partnership also strengthens SIBR's participation in the U.S.-China Clean Energy Research Center's Buildings Energy Efficiency programs.
Pacific Northwest National Laboratory (PNNL) and China Academy of Building Research (CABR): The collaboration will strengthen and coordinate activities between the two entities to promote energy performance contracting and energy efficiency retrofits in the public sector. 
We also had the opportunity to see some of our host country's exciting progress up close. For example, I toured one of Beijing's leading industrial enterprises, Yanjing Beverage Co., Ltd. The chairman of the company provided us with a tour, proudly sharing their accomplishments in energy saving. The company has 43 factories across the country and has reduced their use of coal-equivalent energy by 50%. They achieved this by capturing and reusing methane gas and carbon dioxide. Yanjing also recycles water resources five times in its industrial processes. Results like these show us what is possible by making better use of our resources – both for the environment and for the bottom line.
We still have a lot more work to do. After all, efficiency isn't just about improving individual buildings or operations of companies, but building better systems and infrastructure, including better technology and smarter codes, standards, and policies. And with these changes come new opportunities for trade and investment that can deliver benefits to the U.S. and other economies.
The road ahead will bring challenges for the world that require global collaboration – which is why the U.S. is working to maintain a strong partnership with China in the global effort to reduce pollution causing climate change.