You are here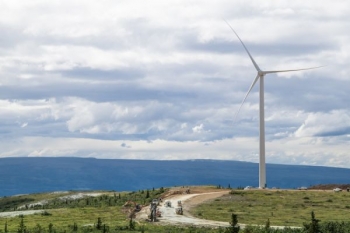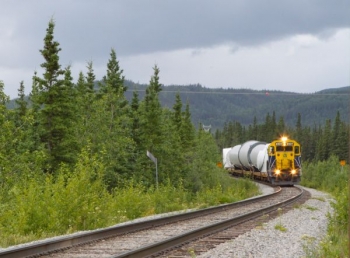 A train carrying wind turbine components arrives in Alaska. The components were then transported to the Eva Creek Wind Farm site. | Photo courtesy of Golden Valley Electric Association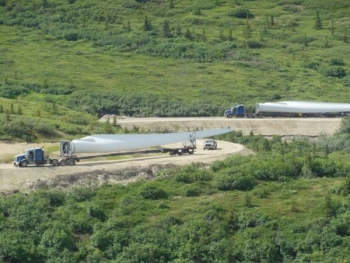 Wind turbine blades are transported up the 10-mile-long, narrow dirt road to the Eva Creek Wind Farm site. | Photo courtesy of Golden Valley Electric Association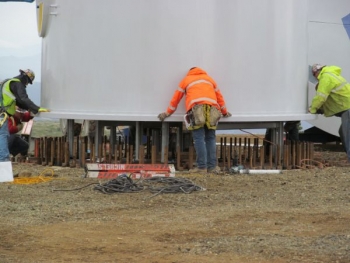 Workers line up bolts as a wind tower section is lowered at the Eva Creek Wind Farm site. The project supported 180 jobs during the construction phase. | Photo courtesy of Golden Valley Electric Association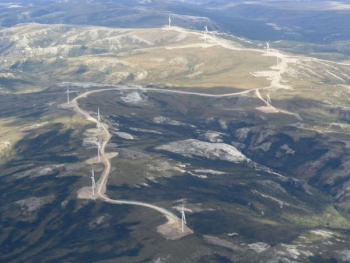 An aerial view of Eva Creek Wind Farm, which started generating electricity last year. | Photo courtesy of Golden Valley Electric Association
For many Alaskans, energy is expensive. This is mostly due to how far fuel has to travel across the state, which is the largest in the country. Coal has to be shipped inland by train, many areas do not have access to natural gas for heating, and diesel must be either refined locally or transported by barge and truck to reach utilities and consumers. Electricity for Alaskan consumers can cost on average 14 to 16 cents per kilowatt-hour, much higher than the national average of 10 cents per kilowatt-hour.
Golden Valley Electric Association, an Alaskan rural electric cooperative, saw the problem this way:  if your energy costs are too high, find a way to use less of the most expensive source, which in Golden Valley's case is diesel. 
To cut its diesel use, the co-op needed a new source of electricity—so it built one. Golden Valley developed the Eva Creek Wind Farm, a 25-megawatt facility in Ferry, Alaska, which started generating electricity last year.  
Golden Valley set a target in 2005 to get 20% of its peak load electricity—power supplied when customer demand is highest—from renewable energy by 2014. The co-op was already receiving some renewable electricity from a hydropower project and two member-owned wind turbines. It also reduced its overall energy use through several efficiency projects. However, to meet its goal, the co-op needed more renewable energy capacity. In Alaska, winds blow strongest in winter, when households need electricity for heating the most, so wind power fit well with their customers' needs.
Finding Financing at Just the Right Time
Pursuing wind energy wasn't a new idea for Golden Valley; the co-op started discussions about building a wind project in the mid-1990s.  However, it wasn't until the American Recovery and Reinvestment Act passed in 2009 when this idea started to become a reality, as it enabled rural electric co-ops to borrow money for clean energy projects at very low interest rates. Coupled with $13 million in state grants, Golden Valley used $84 million in bonds to build its first-ever wind farm.
Overcoming Alaska's Unique Challenges
Transporting wind turbines, blades and components to construction sites can be a challenge under normal circumstances, and these issues were exacerbated by Alaska's rough terrain. The site where the wind farm was built was chosen for its proximity to transmission lines.  However, the site was located at the end of a 10-mile-long, narrow dirt road, making it extremely difficult to deliver wind turbine components and construction equipment there.   
Also, during Alaska's long winters, temperatures can plummet to below -30°F, colder conditions than most wind turbines can function under. This meant Golden Valley had to purchase specialized cold-climate wind turbines that include built-in heating units, which enable the turbines to keep generating power even at subzero temperatures.
A Journey from Arkansas to Alaska
The turbines and other components had to travel by ship to the Port of Anchorage, and the blades traveled via train from Arkansas, a 3,000-mile journey. Some of the components had to be disassembled before being loaded on rail cars in order to fit through a narrow, low-hanging bridge, the only path over a river. After being shipped by rail, the turbine components were then transferred to trucks and moved up the 10-mile road, an old mining trail that had to be widened and straightened to accommodate the 147-foot-long blades.
The 12-turbine wind farm only took three weeks to assemble, but the process of planning and transporting parts and equipment to the site was so complex that it took a team of 180 workers nearly six months to complete.
Savings for Both Cooperative and Consumers
Now that the Eva Creek Wind Farm project is complete, it is expected to help the co-op meet its renewable goals ahead of schedule. Golden Valley estimates the project has already reduced its dependence on oil by the equivalent of 1.3 million gallons of diesel fuel in its first quarter of operation, saving Golden Valley as much as $4 million in fuel costs. The project also supported 180 jobs during the construction phase.
For completing such an ambitious and challenging wind energy project, Golden Valley won the 2013 Wind Cooperative of the Year Award from the National Rural Electric Cooperative Association and the Energy Department.
Interested in finding out if your utility uses wind power as a source of electricity? Contact your local utility to see if they offer green power purchasing programs, which support clean energy sources such as wind. To learn more about building small wind projects on your own property, check out the Small Wind Guidebook on the Wind Powering America website.
How can we make it easier for more communities to use wind power? Lessons can be learned from Wind Powering America's Wind Cooperatives of the Year winners and their innovative wind projects. Wind Powering America is a nationwide initiative of the Energy Department's Wind Program designed to educate, engage, and enable critical stakeholders to make informed decisions about how wind energy contributes to the U.S. electricity supply.