You are here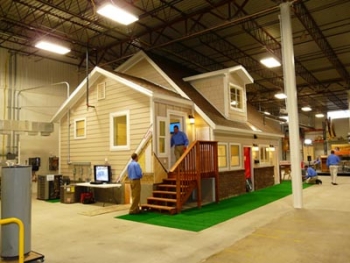 The Intermountain Weatherization Training Center in Clearfield, Utah. Weatherization Training Centers throughout the nation teach workers valuable skills needed to improve energy efficiency of homes. | Photo courtesy of Intermountain Weatherization Training Center
Since its inception in 1976, the Energy Department's Weatherization Assistance Program (WAP) has used its traditional formula grant program to explore new methods and equipment for increasing the energy efficiency of homes throughout the nation.
From developing technical certifications in the weatherization industry to creating new materials to improve home insulation, WAP has helped spur innovation in residential energy efficiency and a national network of weatherization professionals is helping expand long-term technical and policy resources that lend to a growing market and advance the nation's clean energy economy.
Setting Standards
WAP has developed a series of guidelines that aim to standardize practices within the weatherization industry and increase home energy efficiency.  The Guidelines for Home Energy Professionals project brings together WAP and industry professionals to develop valuable industry resources such as the Standard Work Specifications, Job Task Analyses, and National Home Energy Professional Certifications.  These tools define the roles of various weatherization professionals and establish standards for quality in the performance of residential energy upgrades. As a result, the Weatherization Assistance Program is instrumental in defining residential energy upgrade work as a distinct and professional industry.
The Standard Work Specifications, or SWS, are the cornerstone of the Guidelines for Home Energy Professionals, and help define high-quality standards, outcomes and specifications for weatherization work. Taken at its most basic level, a home energy upgrade job is a collection of individual measures aimed at increasing the energy efficiency of a particular system in a building. These individual measures are the focus of the SWS. In order to address the unique requirements for successful completion of work in all types of environments, Standard Work Specifications exist for single family, multi-family, and manufactured housing. The SWS provide a common yardstick for consumers, financiers, and policy makers to measure the performance of their service providers.
Training the Weatherization Workforce
The Weatherization Training Centers (WTCs) lead the nation in implementing the resources created under the Guidelines for Home Energy Professionals project.  These specialized training organizations teach whole-house building science to weatherization workers who are able to  immediately put these valuable skills into practice. Throughout the country, these institutions provide several methods-driven courses to weatherization professionals. WTCs are continuously engaging industry partners to better understand what methods work most effectively in real homes and communicate this to the workforce. The National Standardized Curriculum taught in WTCs is rooted in the knowledge, skills and abilities outlined in the Job Task Analyses and offers valuable courses needed for career growth. Through a partnership with the Interstate Renewable Energy Council, many of the centers have received industry-leading accreditation for their courses.
Cross-Cutting Collaboration
Additionally,  the weatherization industry has benefitted from the work of research and development projects affiliated with the Energy Department's Building Technologies Office (BTO) and national laboratories, which advance cutting-edge technologies. These include developing more efficient window coverings and attic insulation methods that help maximize energy savings for residents. BTO also partners with industry and researchers to accelerate the development of energy-efficient technologies throughout the building envelope, including insulation, roofing and attics, foundations, and walls.
WAP's partnership with the national laboratories helps develop energy audit tools that assess homes before and after upgrades. These include Oak Ridge National Laboratory's (ORNL) National Energy Audit Tool (NEAT) for single-family homes and the Manufactured Home Energy Audit (MHEA) for mobile, manufactured homes. In collaboration with Lawrence Berkley National Laboratory, ORNL is currently developing the Multifamily Tool for Energy Audits (MulTEA). These and other collaborations enable WAP to deploy the innovative technologies that help weatherization service providers achieve maximum energy savings for millions of residents.