You are here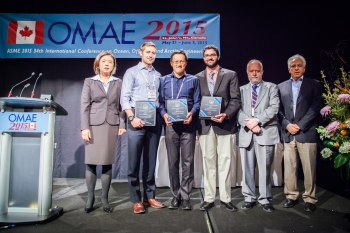 In order to harness the power of waves to generate electricity, engineers must be able to predict how large floating devices will perform in a dynamic environment—that is, in the water among waves. A team sponsored by the Energy Department addressed that challenge and won a recent international competition.
With members from the National Renewable Energy Laboratory (NREL) and Sandia National Laboratories (SNL), the Department-funded wave energy converter (WEC) modeling team won the Center for Ocean Energy Research (COER) Hydrodynamic Modeling Competition.
Through the competition, researchers were challenged to predict the dynamic motion of a floating body in an irregular wave field using computer-based modeling software. Teams had three months to compile and submit their final simulation results; these submissions were then compared with data from an experimental scenario outlined by COER. Victory would go to the team that simulated the experimental scenario with the smallest variance from the experimental results.
Getting the right answer is not only about having a good code. Expert users also need to set up the model in the correct way to simulate the relevant physics. In using NREL's FAST modeling tool and WEC-Sim, a WEC simulation software tool that was jointly developed by NREL and SNL, the Department-funded team blew away the competition.
The winning team was revealed at this year's International Conference on Ocean, Offshore and Arctic Engineering (OMAE). Using national lab-developed design tools, our modeling team beat five other international teams, including from MIT, Dynamic Systems Analysis from Canada, and three other international universities. Organized by the Maynooth University in Ireland, the COER competition was held in conjunction with OMAE in St. John's, Newfoundland, Canada, from May 31–June 5, 2015.
WECs have the potential to produce electricity from America's vast domestic wave energy resources. Design tools like WEC-Sim accelerate technological innovation by simulating the power performance, dynamics, and other aspects of WECs that transform the kinetic energy of waves into electricity. This spurs opportunities for device design optimization, while driving down the cost of this as-yet untapped source of energy.
Importantly, as an open-source platform, the WEC-Sim system allows researchers to customize its code to suit their specific needs. The success of the NREL and SNL design tools in the COER competition emphasizes the viability and usability of open-source numerical simulation tools for the water power industry. This award further suggests that the Energy Department's work in design tools is advancing the industry. Ongoing projects, like our Wave Energy Prize, provide additional opportunities to further the advancements being made in this industry. Many new technological developments could result from the Prize as 92 eligible teams recently registered to compete to become one of 10 finalists that will test their WEC devices at the maneuvering and seakeeping basin in Carderock, Maryland.
With continued effort, the Department is positioned to support the U.S. wave energy industry as it develops the next generation of WEC technologies.
To learn more about how wave energy devices work, watch our Energy 101: Marine and Hydrokinetic Energy (MHK) video, and learn more about the Department's efforts to support MHK research and development.