You are here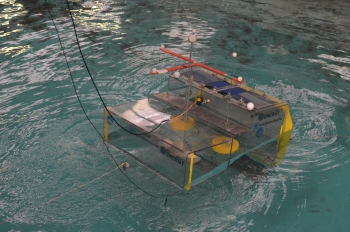 After an unprecedented 92 teams registered to compete in the Energy Department-funded Wave Energy Prize, today we announced the top 20 teams. These teams all passed through Technology Gate 1: providing a thorough technical submission detailing their device and its functionality. These teams will now develop advanced wave energy converters (WECs) to achieve the Energy Department's goal of doubling the energy captured from ocean waves and reducing the cost of wave energy.
The Wave Energy Prize judging panel identified these  teams based upon the quality of highly-detailed technical submissions, which were judged by the device's Technology Performance Level and teams' overall ability to meet the Prize's objectives. During the week of August 3, our wave energy experts were on-site in Detroit, Michigan at Ricardo, Inc. to oversee the judging panel's selections. Ricardo, Inc. leads the Prize Administration Team, which is responsible for designing and executing Wave Energy Prize.
The 20 teams that will proceed on to the next phase of the competition are:
Advanced Ocean Energy @ Virginia Tech (Hampton Roads, VA)
AquaHarmonics (Oakland, CA)
Atlantic Wavepower Partnership (Newport, RI)
Atlas Ocean Systems (Houston, TX)
CalWave (Berkeley, CA)
Enorasy Labs (Bedford, MA)
Float Inc. – BergerABAM (San Diego, CA)
IOwec (MIT Sea Grant College Program) (Cambridge, MA)
M3 Wave (Salem, OR)
Mocean Energy (Annapolis, MD)
OceanEnergy USA (Sacramento, CA)
Oscilla Power (Seattle, WA)
Principle Power (Berkeley, CA)
RTI Wave Power (York, ME)
Sea Potential (Bristol, RI)
SEWEC (Redwood City, CA)
Super Watt Wave Catcher Barge Team (Houston, TX)
Team FLAPPER (Floating Lever and Piston Power ExtractoR) (Research Triangle Park, NC)
Wave Energy Conversion Corporation of America (WECCA) (North Bethesda, MD)
Waveswing America (Sacramento, CA)
These teams will build 1/50th scale models of their innovative designs and test the devices at one of five small-scale testing facilities across the country. These teams will also be required to numerically model their devices and develop detailed construction and build plans for their devices. The types of devices proposed by these teams include point absorbers, terminators, attenuators, oscillating water columns, and oscillating wave surge converters. These technical submissions push the boundaries in diverse technology areas, including geometry and shape, control systems, materials, and energy capture and conversion capabilities.
Make sure to stay updated on the latest news as the top 20 teams begin building and testing their scale models. In March 2016, these 20 teams will be narrowed to ten finalists that will build larger 1/20th scale models of their devices, which will undergo tank testing at the nation's most advanced wave-making facility, the Naval Surface Warfare Center's Maneuvering and Seakeeping (MASK) Basin at Carderock, MD.  Stay tuned.