You are here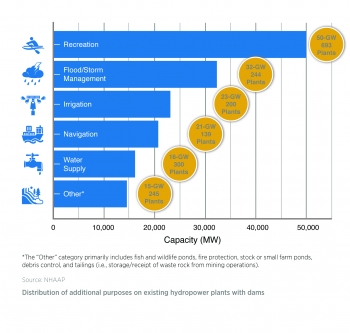 Summer is a time for going to the beach—or at least going out on the water to beat the heat. But not every splashy getaway involves going to the shore. Many reservoirs offer recreation activities—like swimming, boating, fishing, camping, and hiking­—that are perfect for summer fun, and also have installed hydropower projects generating clean energy for American homes and businesses.
Dam operators work with local communities to allow for recreational access. For example, some dams schedule water releases for whitewater rafters. The tailwaters—fast moving water located immediately downstream from the dam—are perfect for rafting enthusiasts to hone their skills. Many reservoirs also have designated swimming areas, piers, or boat ramps for public recreational uses. In fact, nearly 700 U.S. hydropower plants with reservoirs provide some type of recreation.
Other activities made available by hydropower sites include land-based recreation. For example, a reservoir can have campgrounds and picnic areas around the water in addition to hiking, biking, and running trails. 
As seen in the graph above, a single project can support multiple purposes in addition to hydropower generation including recreation, flood and stream management, irrigation, navigation, and water supply. At least 84% of the U.S. hydropower fleet (by capacity) provides one or more of these additional benefits.
To learn more about hydropower's role in the energy mix, please visit the Water Power Program website. Watch our Hydroelectric Power Energy 101 video to see how hydropower works.