You are here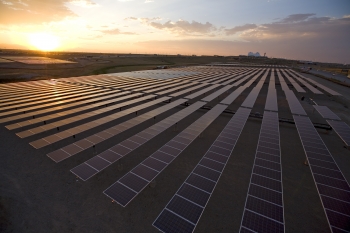 This two megawatt installation at Denver International Airport is owned by Constellation Energy, a utility based in Baltimore, MD. (Photo Courtesy: Denver International Airport)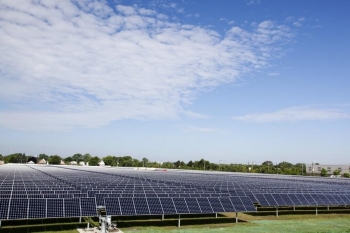 Exelon's City Solar power plant is located in Chicago's Far South Side and is the one of the largest urban solar installations in the country. (Photo courtesy: SunPower)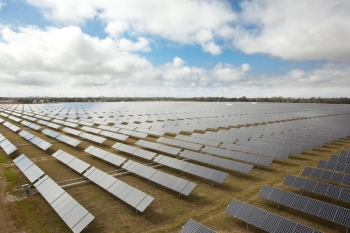 This 25 megawatt installation is owned by Florida Power & Light and was built to help meet the state's renewable energy targets. (Photo courtesy of SunPower)
As we work to make solar energy affordable for more Americans each day, we want to celebrate organizations that often don't get adequate praise: electric utility companies. The SunShot Initiative has worked with utilities across the country on innovative projects that help generate, integrate, and distribute solar energy throughout the grid. Without this work, those solar-powered electrons would never make it to your home or business. In fact, just last week we announced $18 million in funding for projects that will work with utilities to demonstrate storage solutions that would enable hundreds of gigawatts of additional solar energy to be added to the grid. 
Storage allows utilities to regulate the amount of solar energy entered into the grid, acting as an intelligent buffer that enables utilities to manage when and how solar is added. These six projects each have a utility partner, or a utility lead, to demonstrate the proposed solution for at least a year. Working closely with these utilities ensures that the projects will have impact and scalability so that other utilities can incorporate the lessons into their future plans. 
Utilities are already installing solar on a grand scale. In fact, utility-owned photovoltaic installations account for 52 percent of the solar capacity installed in the United States, according to the Solar Energy Industries Association. These solar installations span the country and help reduce the carbon intensity of the energy we all use. They are also incorporating solar plants that are actually owned by commercial or residential consumers into the grid and—in the states with net metering policies—paying those customers for the electricity they generate.  
The utility currently feeding the most solar power onto the grid is Pacific Gas and Electric Company (PG&E) in California. According to the Solar Electric Power Association (SEPA), PG&E installed 1.5 gigawatts of solar in 2014, bringing their total to 4.6 gigawatts. That's 20 percent of all the solar installed in the entire United States. PG&E is a key partner in continuing the growth of solar. The company recently upped the ante in the SunShot Prize competition, which challenges teams to reduce the "permit-to-plug-in" time to seven days for small systems, by setting a more ambitious goal to reduce its permit-to-plug-in time to just one day across its service area. 
In Hawaii, twelve percent of the Hawaiian Electric Company's (HECO) customers have solar panels on their homes and businesses connected to the grid—more than anywhere else in the nation, says SEPA. This is no simple feat. With help from SunShot, HECO integrated better forecasting software into its energy management systems. This project allows grid operators to see 15-minute short-term wind and solar forecasts, allowing for electrical load management of the "distributed" solar installations spread across its grid. This work was further enhanced by a project that installed advanced inverters on residential solar systems that provide even more granular understanding of solar generation, so the grid remains balanced despite cloud cover or any other weather on the islands. This project enabled 2,500 additional customers to connect their solar energy systems to the grid, clearing up a long backlog of installed systems and making thousands of new solar customers very happy. 
Advancing the technology that integrates solar energy to the grid has been a key business opportunity for solar technology companies participating in the SunShot Incubator program. ConnectDER, an advanced inverter developer, has made a second-generation device that allows utilities to monitor how much solar energy is generated at the solar installation site. Qado Energy, another awardee, has developed a software program that helps automate the interconnection process—including an online app—helping to dramatically cut the time it takes for a utility to connect a customer's solar installation to the grid. Both ConnectDER and Qado have partnered with utilities across the country to service their solar customers. A third SunShot awardee, Clean Energy Collective, is helping utilities examine the potential of community solar to grow their renewable portfolios as they develop their National Community Solar Platform with SunShot support.
It's not just about how many megawatts utilities add to their energy generation mix, but how they integrate solar that matters. Dominion Virginia Power is working on a plan to boost its share of solar on the grid through its Solar Market Pathways project. While tackling its solar deployment goals, Dominion's work to assess sustainable models of solar development is also addressing operational challenges, reducing systems impacts, and lowering the costs of interconnection, which could be used as a model by other utilities in the future. 
And, as solar costs come down quickly across the nation, more and more utilities are examining how to incorporate the vast resource of free energy from the sun to lower costs and reduce the carbon intensity of their energy mix. The models showcased through SunShot's work will help utilities across the nation ramp up their solar energy production quickly and cost-effectively, and provide clean, renewable solar power for Americans for years to come.