You are here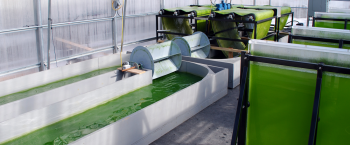 Superior Ecotech's technology uses algae to convert carbon dioxide resulting from brewing beer into omega-3 oils, which lowers carbon emissions for craft breweries. The team's long-term goal is to use its algae oils to produce clean, cost-effective, and renewable biofuels. | Photo courtesy of Superior Ecotech
Competing on its home turf, Superior Ecotech won the University of Colorado at Boulder's Cleantech New Venture Challenge—one of six regional contests that make up the Energy Department's (DOE) National Clean Energy Business Plan Competition. The student-led team took the top prize of $100,000 on April 18, and now advances to the national competition.Superior Ecotech pitched its business plan against six student teams before a panel of judges from the energy, consulting, and finance sectors. Each team received mentorship and expert feedback before entering the competition. Team projects featured innovative solutions to the nation's environmental and energy challenges including:
Using an unmanned aircraft to help farmers reduce energy and water consumption;
Purifying water and generating electricity using agricultural byproducts;
Cleaning and recycling manufacturing wastewater while simultaneously generating electricity; and
Collecting and analyzing data to reduce energy costs in buildings.
Top honors went to Superior Ecotech for its technology that uses algae to convert carbon dioxide waste into omega-3 oils and other useful products during the process of making beer, which lowers carbon emissions for craft brewers. The team's long-term goal is to use its algae oils to produce clean, cost-effective, and renewable biofuels.
As the winner of the CU Cleantech New Venture Challenge, Superior Ecotech will compete at the third annual DOE National Clean Energy Business Plan Competition in Washington, D.C. on June 11 and 12.
The DOE National Clean Energy Business Plan Competition promotes entrepreneurship in clean energy technologies that boost American competitiveness, bring cutting-edge clean energy solutions to the market, and strengthen our economic prosperity. Previous competitors have gone on to launch 57 start-ups, create 120 jobs, and raise more than $26 million in follow-on funding.
Check the EERE Blog for updates on the remaining regional contests and to learn more about the DOE National Clean Energy Business Plan Competition.