You are here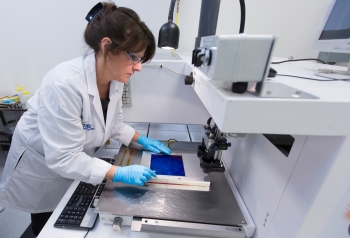 1366 Technician Becky Allen works in a lab at the company's Bedford, MA demonstration facility. | Photo courtesy of Bob Frechette
U.S. solar manufacturing is on the rise, and the nation is quickly becoming a hub of next-generation manufacturing techniques and high-tech components. Harnessing the success of its innovative work in creating low-cost silicon wafers, 1366 Technologies recently announced it will add 1,000 new jobs in upstate New York. The Energy Department played a crucial role by supporting 1366 Technologies early on with funding awards and loan guarantees. This is a story of how federal funding supports the American entrepreneurial spirit.
The journey of 1366 Technologies illustrates what the Energy Department's investments can do to transform early-stage research into vibrant businesses through smart investment. 1366 first received SunShot funding in 2008 through an Incubator award, which have a strong track record of proving design concepts from small solar companies. For every $1 in government investment in SunShot Incubator, those companies have turned around and earned more than $22 in private follow-on funding. 1366 received an Incubator award for its early stage research into developing molten materials for solar cells in the lab. It also received early-stage support from ARPA-E, which funded the development of company's first tool, paving the way for its manufacturing growth.
In 2011, SunShot again funded 1366 Technologies to improve supply chain efficiency and to build the company's first commercial-scale line in Lexington, Massachusetts, with a manufacturing capacity of 25 megawatts (MW) per year. The $7 million federal award complemented $21 million of private investments to scale up the company's existing demonstration process. Finally, the Energy Department provided a $150 million loan guarantee to the company in late 2011, which allowed it to scale up its planned manufacturing facilities.
SunShot continues to support the advancement of 1366's innovative wafer product, which manufactures silicon wafers directly from molten silicon and avoids having to saw individual wafers from blocks of silicon.  This process, known as kerfless wafering, produces far less waste and has driven down the cost of manufacturing a silicon wafer by 50 percent.
The 1366 Technologies process is now an industry-standard product that can be used by solar cell manufacturers. Their process takes 20 seconds to create a wafer (while the conventional process can take up to three days) and it uses one-third as much energy. This technology is complemented by other innovations developed in the SunShot portfolio, which supports U.S. companies manufacturing other solar energy system components like solar cell measurement tools and components for PV-ready electric meters. These companies have leveraged SunShot's support to develop innovative and advanced manufacturing processes, from differentiated technology design to automation, in order to establish a competitive advantage needed to make these new facilities a reality here at home.
As solar manufacturing grows in the United States, the Energy Department is committed to providing targeted, competitive research and development funding that moves products to market quickly while leveraging American ingenuity and innovation. The Department's Clean Energy Manufacturing Initiative, which aims to increase American competitiveness in the production of clean energy products and boost its manufacturing competitiveness across the board by increasing energy productivity, focuses and rallies resources from across the Department to support U.S. manufacturing. Global solar manufacturing, currently estimated to be about $120 billion worldwide, has a strong growth trajectory in coming years, and SunShot funding is helping to ensure that U.S.-developed technologies can capture a larger portion of that market. This is an enormous economic opportunity for any country. The Energy Department's SunShot initiative will continue to empower U.S.-based manufacturers to embrace this opportunity and add jobs.
Learn more about SunShot's work to bring new solar technologies to the marketplace.