You are here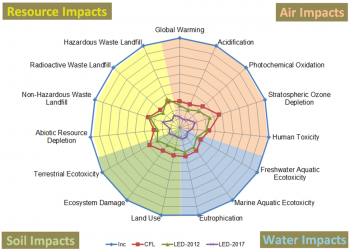 A three-part Energy Department-funded study indicates LEDs are more environmentally friendly than compact fluorescent and incandescent lights. | Energy Department graphic
Increasingly, light emitting diode (LED) screw-based lamps are providing consumers a cost-effective and energy efficient alternative to compact fluorescent (CFL) and incandescent lighting.  But how much greater are the environmental benefits of LEDs when it comes to the lifecycle of these lighting options?
Final results of a three-part Energy Department-funded study reveal the most comprehensive comparison to date.  The study – which evaluated not only the use but also the manufacturing, transport, and disposal of LED, CFL, and incandescent lamps throughout each product lifecycle – found that LEDs have less negative environmental impacts than incandescent bulbs and a slight edge over CFLs.  
LEDs use less energy than CFLS, which is a primary factor in determining the overall environmental impact.  In the next few years, the LED-edge over CFLs is expected to grow as technological advancements improve LED efficiency. 
In general, lamp models in the study had levels of federally-regulated elements below most state landfill restrictions. California's more stringent thresholds for hazardous waste were also considered, and nearly all of the lamps, regardless of the type of lighting technology, exceeded at least one California restriction, either copper, zinc, antimony, or nickel.
Components in the lamps that exceeded thresholds were the screw bases, drivers, ballasts, and wires or filaments.  The study noted that aluminum recycling would be particularly effective in reducing the lifecycle impact of LED lighting products, many of which contain aluminum heat sinks.
Read the full details of this study or go to energy.gov/lighting to learn more about LED lighting benefits.