You are here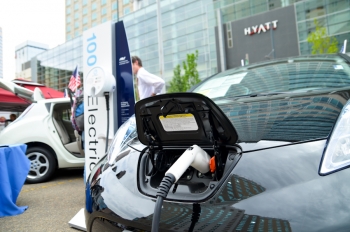 The Denver Metro Clean Cities partnered with the Colorado Renewable Energy Society to host Electric Avenue, a public event showcasing electric vehicles and charging equipment that took place in downtown Denver in May 2012. | Photo by Natalia Swalnick.
This is the first post in a four-post series celebrating National Drive Electric Week (September 15-21, 2014). The Department of Energy's Vehicle Technologies Office supports plug-in electric vehicle (PEV) development and deployment efforts through the EV Everywhere Grand Challenge, a 10-year vision to enable the U.S. to be the first nation in the world to produce PEVs that are as affordable for the average American family as today's gasoline powered vehicles by 2022.
The transition to from gas-powered to plug-in electric vehicles (PEVs) will require changes at every level: federal, state, and municipal.  In response to the growing need and demand for sustainable vehicle solutions, state governments are creating new policies to encourage the use of PEVs. By working with their local communities as well as other state governments, these leaders are making it more affordable and convenient than ever to drive a PEV for citizens across the United States. There's innovation happening across the country in the PEV space—from Colorado to Minnesota to Vermont.
In Colorado, the state government has taken best practices to the next level by passing them into law. Those recommendations began with Project FEVER (Fostering Electric Vehicle Expansion in the Rockies), an initiative supported by the Energy Department's Clean Cities program. Under this project, the Denver Metro Clean Cities Coalition and its partners produced the Colorado Electric Vehicle Readiness Plan, which specified next steps for improving the PEV-readiness of the state. The project also quantified the specific amount of carbon pollution and other emissions PEVs are and could be reducing in the state. A state-wide non-profit, the Southwest Energy Efficiency Project, worked with its partners and the Colorado state legislature to implement several recommendations from these plans. Addressing a number of barriers, this legislation:
Added a seven year extension onto the state income tax credit for PEVs;
Developed an EV registration fee that created an ongoing revenue source for public charging stations as well as funding roads and bridges;
Simplified the process for companies to collect a fee for charging, making it more desirable for companies to install public charging stations;
Prohibited unreasonable obstacles to establishing charging by apartment building owners or homeowners associations; and
Established an easier process for the state fleet to purchase PEVs.
Minnesota's state government has also taken major steps to encourage PEV adoption, as the first state to require investor-owned utilities to provide a discounted rate for PEV charging at night. Starting next year, Minnesota's residential customers will be able to "fill up" with 100 percent renewable electricity at home for the equivalent of less than a dollar per gallon of gasoline. By encouraging PEV drivers to charge during times of low demand, which can take pressure off the electrical grid, these special rates may also lower overall utility costs. Building from the foundation set by the Twin Cities Clean Cities' alternative fuel community readiness project supported by the Energy Department, non-profit Fresh Energy took the lead on working with the state government to pass this bi-partisan bill.
Beyond individual efforts, eight states have pledged to work together to drastically expand the use of PEVs. In 2013, the governors of California, Connecticut, Maryland, Massachusetts, New York, Oregon, Rhode Island, and Vermont committed to put 3.3 million PEVs and hydrogen fuel cell vehicles on their streets by 2025. The MOU developed from the relationships established in part by these states' participation in Clean Cities' PEV community readiness projects in California, Oregon, and the Northeast. 
By removing barriers to driving on electricity, these states and many others are contributing to a clean transportation future.