You are here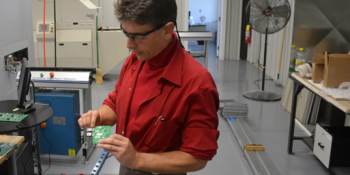 Diversified Power International President Tony Trigiani inspects a part at DPI's headquarters in Tennessee. DPI is expanding its engineering, development, and manufacturing operations to keep up with demand. | Photo courtesy of Chris Davis, Tennessee Solar Institute
Nestled in Piney Flats, Tennessee, is a small company poised for big growth. Diversified Power International (DPI) designs and manufactures a wide range of products that greatly improve the efficiency of battery-related drive systems including solar energy storage systems and all-electric vehicles.
As the nation moves toward greater adoption of new energy efficiency and renewable energy technologies, DPI is rapidly expanding its engineering, development, and manufacturing operations to keep up with demand. Through the Energy Department's State Energy Program (SEP), DPI leveraged funds from the Tennessee Solar Institute, funded by the Tennessee State Energy Office , to provide high-level training to both its existing and new employees and upgrade its production facility. The upgrades included new equipment and new process lines, as well as energy efficiency measures.
More importantly, DPI established a manufacturing line for products previously made overseas, bringing high-tech jobs back to the U.S.
"We're excited about our plans to again expand our facility, bringing new products to market quickly and technology-based manufacturing jobs to Northeast Tennessee," DPI President Tony Trigiani said. The grants are also helping DPI increase their number of full time employees by 50%. "Bringing jobs home was never about chasing a fad – but part of our business plan since inception," Trigiani said.   
DPI is just one of several companies to receive funding through the SEP. The program provides financial and technical assistance to states and territories through formula and competitive grants. As the decision makers and administrators of their energy programs, states use the grants to address energy priorities, advance technology deployment, create partnerships, access resources, and coordinate energy-related emergency preparedness across the nation.  For more, go to eere.energy.gov/wip.