You are here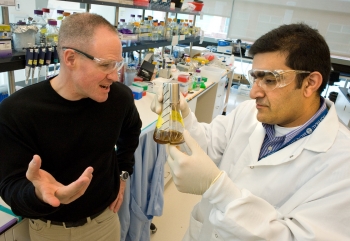 Jay Keasling (left), speaks with Rajit Sapar at the Joint BioEnergy Institute in 2013. Keasling co-founded Lygos, which received funding through the Energy Department's Small Business Innovation Research for a biofuel project. | Photo by Lawrence Berkeley National Laboratory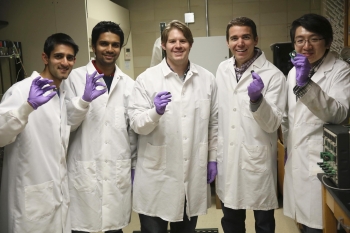 SiNode is receiving Small Business Innovation Research program funding for its battery technology. | Photo courtesy of SiNode
Small businesses are transforming our clean energy economy by bringing innovative, cost-effective products and solutions that lower carbon emissions and improve the environment to the marketplace. The Office of Energy Efficiency and Renewable Energy (EERE) helps these small businesses accelerate the pace at which clean energy technologies move to the market by providing critical funding through the Small Business Innovation Research (SBIR) and Small Business Technology Transfer (STTR) programs.
In this round of funding, 14 small businesses including woman- and minority-owned firms from 10 states will receive nearly $15 million in awards to bring their innovative technologies closer to the market. Having successfully established proof of concept projects in Phase I, these Phase II awardees are moving to prototype demonstrations. Two of the awards are for the STTR program, and 12 are for SBIR projects.
Along with today's awards, EERE's SBIR team also introduces two new strategies to support companies in commercializing technologies even faster. One is the first-ever set of sequential grants in the second phase SBIR, which enables projects that have met strict requirements to continue receiving critical funding to commercialize the technology. The other strategy allows EERE technology offices to provide up to $1.5 million—an increase from the standard $1 million award—for Phase II SBIR projects in higher cost industries.  
The following projects represent three important segments of the clean energy economy: sustainable transportation, energy efficiency, and renewable power.
Sustainable Transportation
SiNode, a minority-owned start-up from Evanston, Illinois will receive $1 million to develop batteries that are double the energy density of standard batteries—and aim to lower costs while improving efficiency of plug-in hybrid electric vehicles (PHEVs). SiNode's novel silicongraphene composite anodes use highly developed affordable components that are compatible with current battery manufacturing processes. In addition to PHEVs, the technology can be used in both military and consumer applications. Since receiving SBIR Phase I funding in early 2013, SiNode won the Energy Department's 2013 National Clean Energy Business Plan Competition; closed on two joint development agreements (one with a customer, another with a manufacturing partner); completed more than $1 million in private financing from angel and venture capital investors; and tripled its staff.
Lygos, of San Francisco, California—and located in a Small Business Administration-designated historically underutilized business zone (HUBZone)—will receive $1 million to develop malonate as a renewable platform chemical for biofuel production. Commercial success of this technology would greatly accelerate R&D efforts and improve prospects for successful commercialization of industrial chemicals produced in microbial strains. Lygos will receive EERE's first sequential SBIR Phase II award.
Energy Efficiency
OG Technologies of Ann Arbor, Michigan will receive $1 million to use advanced manufacturing processes to create 100-meter high-speed rails that will help modernize the U.S. rail system. OG will transform the rail rolling manufacturing process into a high-efficiency practice by integrating product metrology as well as advanced process control.
Creative Light Source of Fort Collins, Colorado will receive $1.5 million to build a prototype and test the system performance of its solar-building technology, which produces both power and light. The unique hybrid technology splits sunlight into visible light for the inside of commercial buildings, and into infrared light for renewable power generation using an efficient thermal photovoltaic (TPV). The visible "daylight" is transmitted into the building using fiber-optic technology.    
Renewable Power
Sinton Instruments of Boulder, Colorado will receive $1.5 million to develop high‐speed, innovative production cell and module testers designed specifically to accurately measure new‐generation solar cells and modules. This new equipment will help lower the cost of solar electricity by enabling a continuous chain of detailed process control and optimization throughout the entire solar cell and module manufacturing process. After manufacturing the modules, further testing and characterization within the modules will be carried out to improve the instrument's reliability.
Perma Works of Albuquerque, New Mexico will receive $1 million to develop a geothermal well inspection camera capable of withstanding the high temperatures of Enhanced Geothermal Systems (EGS). The design builds off proven high-temperature microprocessors used in aircraft control systems, and includes innovative active cooling to maintain safe internal operating temperatures. Perma Works also intends for the camera to easily integrate with conventional geothermal logging equipment, so that no extra logging run is required to deploy the camera. The technology will help ensure that any potential damage to geothermal wells is identified and mitigated.
For full descriptions of all 14 projects and more information about EERE's SBIR and STTR programs, including how to apply, visit energy.gov/eere/sbir. Also, sign up to receive free EERE SBIR applicant resources and program updates.