You are here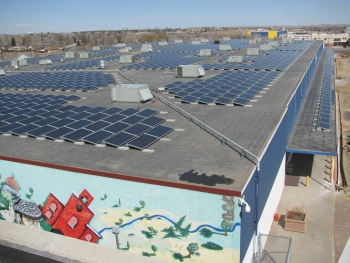 The installation of this 2,244-panel photovoltaic system on Pinnacle Charter School in Denver, Colorado was fully funded by 456 American investors in 10 days. The project is expected to save the school $1.6 million in electricity costs over the next ten years.| Photo courtesy of Mosaic
The U.S. solar energy industry is booming. With 930 megawatts of new photovoltaic (PV) capacity installed in the third quarter of last year alone, 2013 proved to be the biggest year for solar yet. Total installed solar energy capacity now stands at a staggering 10.2 gigawatts, enough to power more than 1.7 million average American homes.
The Energy Department's SunShot Initiative, partnering with national laboratories and industry, is helping solar become even more accessible and affordable for Americans. Since 2011, the average price per kilowatt-hour (kWh) of a utility-scale PV project has dropped from about $0.21 to $0.11. The solar industry is now 60% of the way to reaching SunShot's $.06 per kWh goal by 2020.
SunShot is helping the industry tackle solar's costs from all angles, from the smallest component pieces for a rooftop PV system to putting key permitting information in the hands of consumers faster than ever before. These efforts include the SunShot Incubator Program, which aims to help small businesses cross technological barriers so they can bring innovative solar products and services to market swiftly. One example of an Incubator success story is Mosaic, a small business that received Incubator funding to build an online crowd funding platform that helps everyday Americans create and fund solar projects. The platform consists of a simple three-step process:
It connects investors to solar energy projects in need of financing.
As the projects produce electricity, they generate revenue by selling that electricity to solar customers.
As the projects earn revenue, investors are paid back with interest.
Mosaic has been a smashing success so far, selling out the first publicly-available solar projects in less than 24 hours. Mosaic, and other Incubator awardees like it, are revolutionizing America's solar landscape and helping the nation move to cleaner, more sustainable forms of energy that lower costs for consumers.