You are here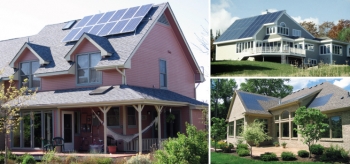 Solar homes are being sold across the country, but they can be hard to find and compare. Teams from Lawrence Berkeley National Laboratory and Elevate Energy are working to ensure that solar is properly represented in multiple listing services. | Photos courtesy of Solar Design Associates, Namaste Solar Electric, and Decker Homes
Editor's Note: This blog post is part of the SunShot Initiative's series on solar and real estate. Read all the posts here.
Shopping for a home that already has solar panels is a smart energy choice. But finding those homes using traditional real estate tools can be difficult. Despite the fact that owning a solar system has been shown to increase the sticker price and sales speed of a property, online real estate services may not have the information you need. A keyword search may bring up solar-named streets, passive solar homes, and solar-heated pools, with solar-powered homes included in the mix. You are unlikely to find important information such as when those panels were installed, how much energy they generate, or other details that would allow you to account for the value those solar panels add to the house.
Real estate professionals and active house hunters rely on local databases called the multiple listing services, or MLSs, which have searchable information on properties for sale across the country. In addition to size, price, and location, MLSs have many details including flooring type, dates renovations were made, roofing types, and more. These details allow home buyers to compare features and understand the underlying costs of a home beyond the sticker price. Most MLSs currently do not contain information on solar energy systems, which makes it difficult and time consuming for shoppers, appraisers, and real estate agents to appropriately value a solar home and compare it to others.
Teams at the Lawrence Berkeley National Laboratory and Elevate Energy, along with experts from the real estate, appraisal, and MLS communities are working to allow listing agents to add details about solar systems to MLSs. Their goal is to incorporate information such as the size of a solar system, the year it was installed, the ownership type, and annual energy production. This should rapidly increase market transparency and decrease transaction costs in the solar market.
The project team will prepare a roadmap to lay out how MLS systems across the country can implement such upgrades in their regions. The roadmap will use two case study locations—San Diego and Massachusetts—to illustrate some of the opportunities and hurdles that must be overcome. Both locations, the team hopes, will be areas where select upgrades can be implemented within the next two years.
The Department of Energy's efforts to help real estate professionals, home buyers and financiers understand the impact of solar on home prices will only become more important in the years ahead. Learn more about what the SunShot Initiative is doing to make it easier to buy and value solar homes.