You are here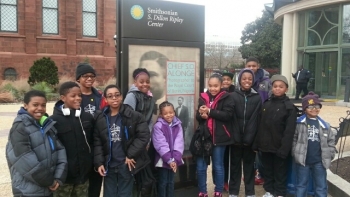 The SEED Coalition is inspiring young minds with STEM activities that teach energy literacy. Here students visit Washington, DC to tour the Smithsonian.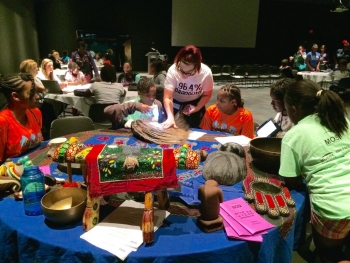 The SEED Coalition is inspiring young minds with STEM activities in energy efficiency. Here, girls from the Tampa Public Housing Authority get involved with a project at the Museum of Science and Industry.
Increasing energy literacy across the nation and around the world is a vital ingredient in the Energy Department's strategy to achieve a global clean energy economy. By helping America make smarter energy choices, we all win.
To get there, the Energy Department (DOE) is partnering with a new initiative called SEED (STEM, Energy, Economic Development): Coalitions for Community Growth, announced this week by the Clinton Global Initiative. The coalition is a joint effort of the Department of Housing and Urban Development and the Department of Education.
The effort aims to link federal agencies with national and local program partners to build awareness about energy and to fuel STEM education and workforce training. Programs will target public housing and other low-income communities, where workforce readiness can make a big difference. In fact, SEED is already being piloted in five cities nationwide: Cleveland, Denver, San Antonio, Tampa, and Washington, D.C. By 2018, the plan is to reach 20 cities.
HUD, the lead federal agency in the SEED initiative, has made significant investments in infrastructure upgrades and residential energy retrofits to conserve resources on a national scale. DOE will provide technical assistance and leverage educational resources like its Better Buildings Challenge, Minorities in Energy Initiative, Energy Saver, and Energy Literacy.
The hope is that SEED will take root nationwide, inspiring inspire public housing residents to pursue careers in energy-related fields by gaining a practical knowledge of energy demand. Through local coalitions, SEED is helping residents take measures to decrease energy consumption:
The Tampa Housing Authority has teamed with the Tampa Electric utility (TECO) to provide 350 hours of energy literacy training for public housing residents to raise awareness consuming and conserving energy. TECO is donating energy literacy kits that include energy efficient lightbulbs, water heater temperature guidelines, a whistle to signal when the furnace filter needs to be replaced, and faucet aerators to conserve water use. 

Public housing authorities nationwide will have access to a monthly webinar at the Energy Department to learn more about cost and energy saving tips. The series, Energy is Everywhere is held the third Thursday of every month.
The Obama Administration's key goal is to equip a clean energy workforce for in-demand STEM jobs by beginning energy education in communities and neighborhoods. Learn more about SEED and join the campaign by contacting SEEDinitiative@hud.gov.