You are here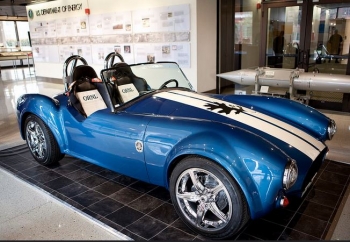 This Shelby was printed at the Department of Energy's Manufacturing Demonstration Facility at Oak Ridge National Laboratory (ORNL) using the BAAM (Big Area Additive Manufacturing) machine and is intended as a "plug-n-play" laboratory on wheels where sustainable components can be tested and enhanced in real time.
The 50th anniversary 3D-printed Shelby Cobra made a stop last week at Energy Department headquarters, and we had the opportunity to show Secretary Moniz this impressive car and talk about the team at the Oak Ridge National Laboratory's (ORNL) Manufacturing Demonstration Facility (MDF) and EERE's Advanced Manufacturing Office who made this amazing technology a reality.
From concept to drivable car, six highly skilled and ambitious engineers printed and finished an all-electric vehicle version of the 50th anniversary Shelby Cobra in just six weeks – an amazing achievement given that this process usually requires dozens of people a year to complete.
Let's take a look at the innovative EERE manufacturing technologies that were developed to make this classic car green.
Cincinnati Incorporated's Big Area Additive Manufacturing Machine
500 pounds of car parts were printed at ORNL using the first-of-a-kind Big Area Additive Manufacturing (BAAM) machine. This industrial-sized 3D-printer was developed by Cincinnati Incorporated, a 116-year-old Ohio-based manufacturing machine company. Using advanced computational models developed by ORNL, the machine printed the car from the bottom up, depositing materials only where required. The result is far less energy-intensive and less wasteful than conventional manufacturing. In fact, this 3D printing process requires less than half the amount of energy used to currently make these car parts.  In addition, BAAM can print parts 500 to 1,000 times faster than standard 3D-printers. BAAM's speed also makes it faster for prototyping a car, which typically takes a year. This team was able to do it in just six weeks.
Going Lighter Through Techmer Engineering Solutions' Advanced Composites
The composite material itself -- 80 percent thermoplastic resin and 20 percent carbon fiber -- was developed by Tennessee-based Techmer Engineered Solutions, a family-owned business that employs 600 people nationwide and just announced plans to open a new materials plant in Aston, Pennsylvania and add ten jobs at the new location. Techmer also recently raised its starting pay to $11 an hour, nearly $4 more than the more than the federal minimum wage.
Operating outside of the existing state-of-the-art temperature controlled environment, the BAAM system created large-scale car parts, directly from pellets, using a Techmer carbon-fiber filled tough composite with high stiffness and improved thermal conductivity. These improved material performance characteristics result in car parts that resist distortion and warping during the deposition process and are lighter than steel, aluminum, and other vehicle part materials. Also, engineers used BAAM to make the vehicle safer by developing lightweight, ultra-strong 3D-mesh structures for multidirectional crash zones. Combined, these advanced composite materials cut the vehicle's weight in half, all while improving energy efficiency and performance.
Powering Up with ORNL Energy Efficient Tech
The Shelby Cobra is designed to be a "plug-and-play" laboratory on wheels. This design concept allows ORNL researchers, like the Power Electronics and Electric Machinery Group, to quickly and easily swap out standard off-the-shelf turnkey components like inverters, motors, on board chargers and batteries, and replace them with 3D-printed power electronic devices made with wide bandgap (WBG) materials. Power electronic devices made with WBG materials are more reliable, efficient, and lighter weight. They also operate at a higher frequency and tolerate higher temperatures. This all adds up to more compact power systems with higher power density. Combining these WBG performance capabilities with additive 3D printing manufacturing will allow "laboratory-on-wheels" researchers to go even further to improve energy efficiency.
Adding Some Shiny TruDesign Finishing Touches
High quality surface finishes are critical for tooling industry applications like making hood, door, and fender parts. Part of the new technology demonstrated in the Shelby Cobra included fitting the BAAM 3D printing nozzle with a smaller bead size, in turn, enabling a smoother body finish. TruDesign, LLC, a family-owned business that employs 21 people in Knoxville, Tennessee, developed a finishing process that bonds the clear coat and paint layers to the printed car parts' resulting in the highest quality finish possible in auto manufacturing. This process could serve as a model for future large-scale 3D-printed vehicles and products. 
Paving the Way for America's Clean Energy Future
Ultimately, we showed the Secretary why this isn't just about a really cool car – this is an EERE-supported project that pushed the envelope of innovation and is just one more example of how EERE is steering the course to a more sustainable future.
The Shelby Cobra work was supported by the Energy Department's Advanced Manufacturing Office and Vehicle Technologies Office. Earlier this year, the Obama Administration announced the University of Tennessee would lead the Energy Department's Manufacturing Innovation Institute for Advanced Composites.
Watch this video to see how the car was made and go to energy.gov/eere/amo for more on the Advanced Manufacturing Office's work