You are here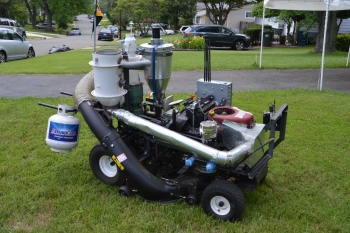 Iron Goat's technology uses robotic automation methods in a new manufacturing process for pelletized agricultural products such as livestock feed and grass pellet fuel. | Photo courtesy of Iron Goat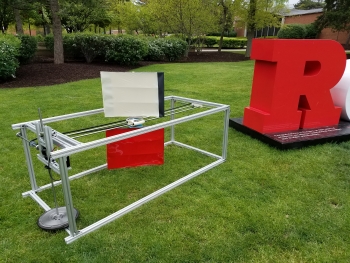 The Sail-Based Wind Harvester is a patent-pending rooftop wind turbine for tall commercial buildings. | Photo courtesy of Sail-Based Wind Harvester
The Energy Department's Cleantech University Prize (Cleantech UP) competition made two stops along the Interstate 95 corridor over the past few weeks, with regional competitions in New Jersey and Boston. Rutgers University hosted the first-ever LaunchR competition on April 22, and the Massachusetts Institute of Technology (MIT) hosted the Clean Energy Prize competition the following week.  
Sail-Based Wind Harvester, a student-led startup from Rutgers, took home the first-place prize at the LaunchR competition for using advanced aerodynamic research to design wind turbines that can operate on the roof of tall commercial buildings. The lure of the rooftop wind turbines is the price: its up-front cost is half of the price of a solar array of the same capacity, according to the team, and its lifetime cost is 25% less than the solar array.
Sail-Based Wind Harvester took home the $50,000 Energy Department prize and booked a trip to the Cleantech UP national competition in Denver in June. Joining them in Denver will be LaunchR first runner-up Para~Trees from the New Jersey Institute of Technology, who is attempting to revolutionize tree planting by modernizing reforestation efforts; and LaunchR third-place finisher Revolution Outboards of Princeton University, who is focused on building sustainable, electric outboard propulsion systems for the marine industry.
The Clean Energy Prize competition featured 18 clean energy startups at MIT's campus in Cambridge, Massachusetts. Iron Goat, a startup from George Mason University, won the Cleantech UP prize for its technology that uses robotic automation methods in a new manufacturing process for pelletized agricultural products such as livestock feed and grass pellet fuel. According to the company, the process includes direct gasification of pellets to fuel, so it is an all-renewable production solution.
With just two regional competitions remaining – at the California Institute of Technology and the University of Central Florida – Cleantech UP teams are inching closer to the national competition, where they will vie for $100,000 in prizes.
Announced last summer, the new and expanded Cleantech UP competition calls for eight institutions to host regional, collegiate challenges that award cash prizes. These contests conclude with a final championship in June, growing the nation's pipeline of student clean energy entrepreneurs.