You are here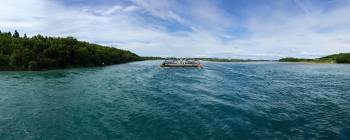 To date, Ocean Renewable Power Company (ORPC) is the only company to have built, operated and delivered power to a utility grid from a hydrokinetic tidal project, and to a local microgrid from a hydrokinetic river project. In 2012, ORPC made history by delivering power to the New England grid from its TidGen® Power System that was installed in Cobscook Bay, Maine. This Energy Department-funded project marked the first commercial, grid-connected hydrokinetic tidal energy project to deliver power to a utility grid in the United States. The TidGen® Power System was taken out of the water in 2013. Funding for the device's next generation system relies heavily on positive results from ORPC's most recent deployment in Alaska.
In July 2015, ORPC deployed its RivGen® turbine in the Kvichak River, located at the Igiugig village in Alaska. The RivGen® Power System demonstration project is providing power to Igiugig, displacing power that would otherwise be generated by high-cost diesel fuel. Connecting to the small community grid and decreasing the use of diesel fuel will help lower electricity costs for consumers since all fuel must either be barged or flown in to the rural village, and that cost is passed on to rate payers.
Equipped with ORPC's latest technological advancements, the overall objective for this project is to reduce and stabilize the cost of power in remote communities located along Alaska's vast rivers. Developing local renewable energy resources is critical to achieving sustainability in these villages. Due to its reliance on diesel, the cost of generating electricity in Igiugig is nearly $0.80 per kilowatt hour (kWh). For comparison, the national average for the continental United States is $0.10/kWh. As ORPC continues to evaluate and optimize its next generation technology, the RivGen® project is a positive step toward providing commercially viable power systems that will reduce the cost and environmental impacts of electricity generation in Igiugig and similar remote river communities worldwide.
Also important to note is that the turbine has not disturbed the natural river environment. Since being deployed in July, the Alaska Department of Fish and Game has estimated that over 1.5 million adult sockeye salmon have migrated past the turbine area. The first day of turbine operations happened to be the second largest escapement day of the salmon season, where 600,000 fish were not captured by fisheries and, in turn, migrated past the turbine to return to their freshwater habitat in order to spawn. Review and analysis of fish monitoring data indicates several incidents of adult sockeye salmon and juvenile salmonids interacting with the turbine area. Downstream cameras show fish able to swim freely after passing through the turbine area and there has been no observed evidence of fish mortality or injury to date.
Across the turbine's deployment, the Northwest National Marine Renewable Energy Center (NNMREC) will work toward multiple Energy Department-funded project goals that will allow NNMREC to develop advanced control systems for in-stream turbines. These developments will aim to improve the short-range predictability and performance of marine and hydrokinetic devices deployed in turbulent current conditions. NNMREC will also conduct velocity measurements during the deployment at Igiugig to assess the variability of the river flow. Using acoustic Doppler instruments—the same equipment and methods used in 2014—the team is collecting and analyzing flow data downstream of the turbine (to determine wake production) and data prior to turbine installation (to assess blockage effects) in an effort to understand the short-range predictability of turbulence approaching the turbine and the subsequent effects on turbine performance.
To learn more about how river, tidal and wave energy devices work, watch our Energy 101: Marine and Hydrokinetic Energy (MHK) video, and learn more about the Department's efforts to support MHK research and development.