You are here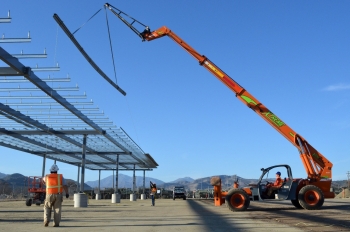 Construction workers build the frame for a 1-megawatt solar microgrid project at Fort Hunter Liggett, California. | Photo courtesy of U.S. Army/Carlos J. Lazo
Editor's Note: This blog post is the second in a week-long series examining the five clean energy technologies documented in the 2016 Revolution...Now report. Check back throughout the week to learn more about LEDs, land-based wind, and electric vehicles.
Solar energy has experienced remarkable growth in the last few years. As EERE's recently released Revolution…Now report details, utility-scale photovoltaic (PV) costs have fallen 64% since 2008, enabling the installation of 13.9 gigawatts of solar capacity by the end of 2015—44% of all solar capacity ever installed in America. And this deployment trend is accelerating: the U.S. installed more than two times the utility-scale PV in the first half of 2016 than over the same time period in 2015. Distributed solar is not far behind. More than 3.1 gigawatts of distributed capacity was installed in 2015—a 34% increase over 2014.
At the same time, the nation's electric grid was built to handle power flowing one way from a few large, centrally-located power plants. Solar changes that paradigm. The SunShot Initiative funds projects that expand the panorama of cost reduction options while helping develop innovative tools that make it easier for grid operators to adapt to the changing demands of our energy mix. Moreover, the grid projects we're supporting also aim to maintain and improve the reliability and performance of our electricity grid upon which American households and businesses depend.
Today, tens of thousands of solar projects come online each month and that number is increasing. Grid operators are actively engaged in initiatives to take on the challenges posed by increasing deployment of distributed resources. For example, solar generation peaks in the middle of the day and wind power often peaks at night. Grid operators are always optimizing dispatch of resources, and now they have opportunities to integrate new renewable energy solutions close to load centers.
Physical upgrades to the grid can provide one set of solutions, but this can be costly and time consuming. Another approach is to gain better insight into how power flows through the grid and develop the planning and operation tools that optimize how we use the grid.
A recent SunShot-funded study from the National Renewable Energy Laboratory shows that the eastern U.S. grid—which spans from Maine to Florida and as far west as New Mexico—could handle solar and wind penetration levels as high as 30%. Using supercomputing and advanced modeling, the researchers simulated a year's worth of grid operations in five-minute intervals to find that the major changes needed to achieve this technical potential were not driven by physical upgrades to the grid's infrastructure. Instead, they found that increased coordination among grid operators, new market designs, and flexible operating procedures could accommodate high levels of wind and solar.
In addition to coordination and operations updates, new technologies can help enable more solar. Earlier this year, SunShot launched a funding opportunity to seek out real-time hardware and software solutions that can enable grid operators to manage solar levels between 50-100% of the energy mix. New projects could potentially feature up-to-the-minute measurement and forecast data, advanced communication technologies, and data analytics that optimize system performance. These projects will include utility partners, and the solutions developed will be field-tested to ensure that they will work at scale and be successful when deployed.
Much of the current conversation around revitalizing the grid's infrastructure recognizes that a coordinated, cross-industry effort is needed for the widespread adoption of solar. The SunShot research and development investments, and ongoing efforts like the Department of Energy's Grid Modernization Initiative, are critical to bridging gaps in the near-term and paving the way to the nation's transition to the more reliable, adaptable, and sustainable grid of the future.  
Learn more about the SunShot Initiative's system integration efforts and read the Revolution..Now report.