You are here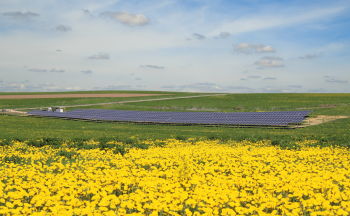 Westby, Wisconsin, is home to Clean Energy Collective's 305-kilowatt Vernon Electric Community Solar Farm. | Photo Courtesy: Clean Energy Collective
Thanks to investments from the Energy Department's SunShot Initiative, solar energy is more affordable for Americans than ever before. But now, going solar no longer even requires a suitable roof. Business-model innovations have led to the development of community solar programs, which allow multiple people to invest in solar together and benefit directly from the cost savings and stable energy bills that solar energy provides. Deployment of community solar exploded over the past year according to the Solar Energy Industries Association, growing fourfold in 2016. Analysts anticipate another big year in 2017, and SunShot Initiative awardees are at the helm of the movement.
So how exactly does community solar work? Arrays are typically located off-site from where their energy is consumed. Participants can either own or lease a portion of a system, or purchase kilowatt-hour blocks of renewable energy generation. The energy generated allows consumers to earn a credit on their monthly utility bills.
There are a number of ways for community solar to function, which is why the Smart Electric Power Alliance is leveraging SunShot funding to examine community solar business models and developing standardized program designs. In its report "What the Community Solar Customer Wants," researchers found most people don't know what community solar is or how it works—but once they become educated, interest spikes. Additionally, the report found nearly 7 million Americans are likely to be interested in either leasing part of a community solar array or purchasing blocks of solar. In order to develop programs that will be of the most value to customers, utilities should locate community arrays near customers' homes and provide access to see how their solar panels are performing. Learn more in the report.
Another SunShot awardee, EnergySage, enables customers to comparison shop for community solar programs. It recently expanded its online Solar Marketplace to include community solar. The original marketplace, which allows consumers to receive and compare multiple solar quotes before deciding on an installer, was created through two Incubator program awards. Prior to receiving SunShot funding, EnergySage was merely a concept. Now, the multi-million dollar operation's platform helps to lower the costs of going solar by encouraging competition among installers. The new Community Solar Marketplace aggregates the available local options for community solar in one place and standardizes project information, allowing interested consumers to easily locate and compare multiple community solar projects in their area. This simple tool is helping solar reach the nearly 50% of Americans who don't own their homes or have suitable rooftops to host solar arrays, and do it in a way that drives down costs.
In addition to helping those who don't own their rooftop, or have an unsuitable one, community solar has the ability to expand solar access to underserved segments of the population. In November 2016, SunShot launched the Solar in Your Community Challenge, a prize competition that supports teams across the country to develop projects or programs that expand solar access to low- and moderate-income households, local governments, nonprofit organizations, and other market segments that have largely been left out of the solar boom. The challenge is open to teams that work to create a new solar program or a portfolio of solar projects, including community solar projects, and experts who provide hands-on technical assistance or guidance to teams throughout the challenge. Learn more about the Solar in Your Community Challenge, including prizes and rules.
As companies and utilities continue to explore new program designs and methods of increasing access to community solar, Americans will have even more options for powering their lives with clean energy.