You are here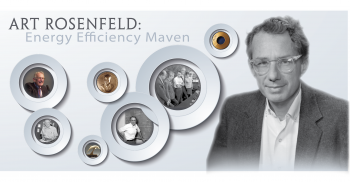 Graphic|Sarah Harman
The world has lost a pioneer in energy efficiency – and the U.S. Department of Energy (DOE) has lost a beloved colleague.
Dr. Art Rosenfeld passed away on January 27 at 90 years old. Over the course of a long and incredibly productive career, he left an enormous impact on how our country uses our energy resources. His work paved the way for a range of technology advancements, as well as efficiency standards and policies that have established the United States as an environmental leader and helped save businesses and customers billions of dollars each year.
A Navy veteran who received his PhD in 1954 at the University of Chicago, Dr. Rosenfeld went on to become an accomplished nuclear physicist on the faculty at the University of California at Berkeley. He found himself deeply troubled by the oil crisis of the early 1970s, a period marked by fuel rationing and seemingly endless lines for drivers at the gas pumps. Turning off the lights in the offices of his colleagues at the end of one workday, Rosenfeld was inspired to take direct action on conserving energy on a bigger scale.   
He soon devoted resources at Lawrence Berkeley National Laboratory to tackling the challenge of using more efficient and cost-effective energy. He founded the Center for Building Science on campus, attracting slews of talented researchers and conducted ground-breaking research that led to major efficiency advancements in common household appliances like refrigerators and air conditioners. Among other technology innovations, the center developed breakthroughs such as heat-trapping window coating, compact fluorescent lights, and computer models to calculate the energy usage of buildings. 
His work was first widely embraced in California, which became a model for conservation as the first state to approve a bold energy efficiency building code in 1978, thanks in part to the technology and robust data provided by Rosenfeld's team. The standards and policies he championed have been credited with maintaining a flat level of per capita electricity usage for the state over four decades, even while national electricity use grew by 50% – a trend called the "Rosenfeld Effect."
Dr. Rosenfeld continued to advocate for energy efficiency throughout his career, including through his role in helping to form a non-profit think tank, the American Council for an Energy-Efficient Economy in 1980.
During the Clinton administration, he served as a senior advisor to DOE's assistant secretary for Energy Efficiency and Renewable Energy. He later served as commissioner at the California Energy Commission, the state's energy planning and policy agency, and as a member of the Secretary of Energy advisory board.
He received a range of prestigious scientific awards for his contributions, including DOE's Enrico Fermi Award from Energy Secretary Samuel Bodman in 2006, and the National Medal of Technology and Innovation from President Obama in 2013. In perhaps the most fitting honor of all, the "Rosenfeld" was proposed by fellow scientists as a new unit for measuring electricity savings.    
He continued to travel widely to speak on efficiency issues and mentor students until shortly before his passing.
Art Rosenfeld's life and work is a testament to the incredible impact that one person can have. All of us at DOE are grateful for his public service and his legacy.