You are here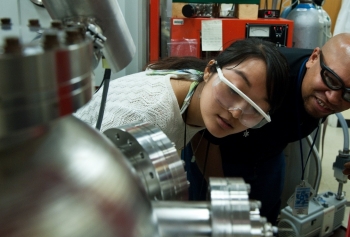 Through the EERE Postdoctoral Research Award Program, recent doctoral grads propose cutting-edge research in solar energy and join teams at universities or the national labs—like this one, which is investigating solar cell materials. Photo credit: National Renewable Energy Laboratory
Applications accepted through May 20, 2016
The Energy Department's SunShot Initiative is now accepting applications from recent Ph.D. graduates for postdoctoral research awards in solar energy. The EERE Postdoctoral Research Award Program supports emerging scientific leaders focused on energy efficiency and renewable energy to help solve our nation's energy challenges. This year, this program will offer up to five recent Ph.D. recipients $65,000, along with the chance to conduct applied research to advance solar energy technologies at universities, national laboratories and other research facilities.
Researchers from a broad array of disciplines are encouraged to apply, including social science and computer science experts, in addition to electrical engineering, physics, chemistry, and material science researchers. Research topics include applying behavioral science insights to solar energy deployment, using big data to solve solar's biggest challenges, and conducting innovative research in materials science, focused on photovoltaics (PV) or concentrating solar power.  Positions will be awarded to work on collaborative research of mutual interest to the applicant, the mentor and host facility, and the SunShot Initiative, which is sponsoring the awards.  The 2016 application period closes on May 20.
The research will contribute to the SunShot Initiative's goal to drive down the cost of solar. Five years into the decade-long effort, the solar industry is 70% of the way to achieving SunShot's cost target of $0.06 per kilowatt-hour for utility-scale PV. To achieve the goal, key reductions must happen in the price of hardware, as well as the "soft" costs like permits, licenses, and so on. This represents an essential area for research and development, if the initiative's goal is to be realized.
Administered by the Oak Ridge Institute for Science and Education, the EERE Postdoctoral Research Award Program provides participants with access to unique education and training opportunities, top scientists in their field, and state-of-the-art projects and equipment. The program has helped launch the careers of many of its participants. After completing the two-year program, these scientists will be well-suited for faculty or research positions in their fields; many former participants of the program now hold faculty and staff positions at major research institutions and national laboratories.
Learn more about the EERE Postdoctoral Research Awards Program and how to apply.