You are here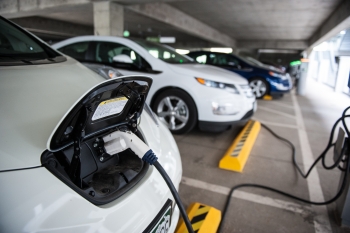 Through our Vehicle Technologies Office, EERE continues to build on more than a decade of research and development (R&D) supporting advances in charging infrastructure and deployment. This research will be critical to realizing the energy efficiency cost-effectiveness and convenience of plug-in electric vehicles (PEVs), and continuing to accelerate today's clean energy revolution.
Significant investment from both the public and private sectors has established a strong foundation for PEV charging and that support must and will continue. With this in mind, EERE has established a set of PEV charging infrastructure principles to guide its efforts and decisions by communities, companies, and other stakeholders working to deploy PEV infrastructure. 
The principles focus on three critical components of infrastructure deployment that are necessary for PEV market success:
Catalytic investments that spur additional investment from stakeholders for visible and accessible PEV infrastructure;
Standardized, open charging systems that ensure easy access by all in a competitive and highly-innovative market; and
Analysis-driven infrastructure investments that will most substantially increase PEV deployments.
As communities, cities, states, and others across the country look to deploy public charging infrastructure and support the growing number of PEVs in their regions, EERE is working to ensure these deployments include access, affordability, awareness, and system reliability for all.  This work includes a broad technical portfolio of electrification R&D, including projects to address technical barriers to higher-power, superfast charging that closes the gap between the time it takes to charge a PEV and the time to fill a gasoline or hydrogen vehicle. It also includes easily accessible, objective technical information to support local decision-making on the type, quantity, and location of PEV charging within a community or along travel routes. 
All of this work, spanning R&D, analysis, and technical information resources, and our new principles, not only leverages the unique capabilities and deep technical expertise of our national laboratories, but also involves close coordination with other federal agencies, including the U.S. Department of Transportation, state and local governments, industry partners, and other key stakeholders.
With that in mind, we are sharing our Public PEV Infrastructure Guiding Principles with communities, states, manufacturers, and electrification stakeholders, including Electrify America. These principles can be found on our website. Additional resources are available to the PEV industry and consumers at the Alternative Fuels Data Center website and the Vehicle Technologies Office website.