You are here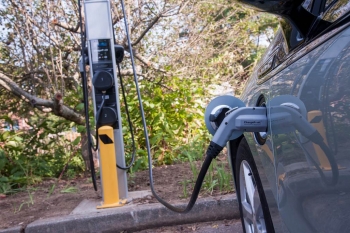 A Chevrolet Volt charges in Rhode Island thanks to a ChargePoint station installed using funding from the American Reinvestment and Recovery Act. | Photo courtesy of NREL
Being able to go on long trips running on electricity has always been the Holy Grail of plug-in electric vehicle (PEV) owners. In comparison to conventional vehicles, which can run for 300 miles or more on a tank of gas, most all-electric vehicles have ranges of less than 100 miles. In addition, while it seems like there is a gas station on every corner, public charging stations are rarer. While range is typically not an issue for plug-in hybrid electric vehicles that have a back-up gasoline engine, public infrastructure can help increase the amount of time they can run on electricity. To avoid "range anxiety" and increase their all-electric miles driven, PEV drivers aim to frequently recharge their vehicles.  While finding places to plug in is one of the most commonly cited barriers to PEV adoption, a new Energy Department-supported study shows that while public charging is helpful, it's far less important and much more rarely used than residential and workplace charging.
To increase understanding of how many and where charging stations need to be installed, Idaho National Laboratory (INL) recently released the study "Plugged In: How Americans Charge Their Electric Vehicles." The report's authors analyzed three years of data from 8,300 PEVs, nearly 17,000 residential, commercial, and public AC Level 2 charging stations, and over 100 DC fast charging (DCFC) stations collected from two major Energy Department projects under the American Reinvestment and Recovery Act--the EV Project and ChargePoint America. These projects covered 22 regions across the U.S. and constituted the largest PEV infrastructure demonstration in the world.
Here are a few of the most relevant findings from INL's study:
Fueling up at home – which can't be done with a conventional vehicle – is very important to PEV drivers.  Nissan Leaf drivers charged at home 84% of the time, while Chevrolet Volt drivers charged at home 87% of the time.
While drivers that frequently used away-from-home charging averaged 72% more daily all-electric miles than those who didn't, about half of drivers did less than 5% of their charging away-from-home.  
Workplace charging proved to be an effective way to increase all-electric range. Leaf and Volt drivers with access to charging at work drove 23% and 26% more all-electric miles annually compared to those who did not have access. In fact, many drivers performed the majority of away-from-home charging at their workplaces. On work days, drivers performed 98% of charging events either at home or at work. Workplace charging could make PEVs an option for people who currently do not have access to residential charging stations.
Public charging stations are most useful when installed at locations where cars are parked for a long time, such as shopping malls, commuter parking lots, and airports. These stations are in high demand on weekends, when such locations are part of drivers' routines.
Timing of home charging can be flexible and economical. With the "depart-by-time" scheduling function available on many vehicles and chargers, drivers can plug in their car whenever they're home, leaving it to the vehicle to calculate the optimal charge time,  and take into consideration grid electricity pricing.
While charging station costs vary by area, Level 2 stations averaged $1,354 for homes, $2,223 for workplaces, $3,108 for public locations, and $22,626 for DCFC.
INL and the Energy Department are sharing the study's results with a number of stakeholders to inform national policy recommendations, state infrastructure planning, regional electric utility planning, and vehicle regulation.