You are here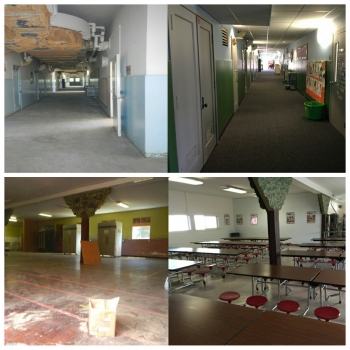 Before-and-after scenes of the energy-saving renovations at Oregon's Lowell School District in summer 2015. Upgrades included insulation of attics and exterior walls, roof replacements, and removal and replacement of asbestos siding.
Essential to excellence in American education is providing a safe, comfortable classroom. Every student and teacher deserves a secure, well-built, well-lit, energy-efficient classroom. Last summer, an Oregon school district made it a top priority to lower energy costs and it upgraded three schools serving almost 400 students.
The Oregon Department of Energy led the renovations in the Lowell School District near Eugene, Oregon, to help the district boost its energy efficiency. Oregon's state energy office, from its own funds, provided two loans to the district totaling about $1.4 million to help meet the $2.1 million project cost. The Energy Department's State Energy Program (SEP), through its extensive investments in the Oregon Department of Energy (nearly $2 million during fiscal years 2011-2014), has laid the foundation for a number of state energy projects—including the Lowell School District's.
The Lowell School District made several improvements at Lowell High School and Lundy Elementary School, including upgrades to boiler technology, insulation of attics and exterior walls, roof replacements, removal and replacement of asbestos siding, and replacement of all windows. Mountain View Academy charter school benefited from the retrofits, too; it shares the same building and HVAC system as Lundy. The retrofits allowed seven classrooms—previously left vacant due to a lack of heating—to open for students to use.
The renovations revitalized the district, while boosting energy efficiency. Last year, student enrollment increased 8 percent. During the same period, Lundy's heating fuel consumption declined by more than 25 percent and its electricity usage declined 12 percent. Lowell High School reduced its heating fuel use by 43 percent and electricity use by almost 7 percent.
"The community has come alive with support and pride," said Dr. Walt Hanline, superintendent of the Lowell School District. "I strongly recommend the Oregon energy loan program and the staff that serve the program. The whole process was innovative and the program flexed where we needed them to."
The Lowell School District-Oregon Department of Energy partnership is a powerful model for other states to follow. Through its vast network of state energy office grantees, the Energy Department is making a difference in our education system.