You are here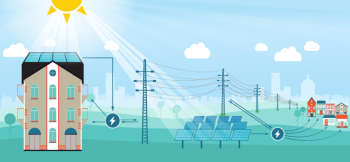 In 2014, the United States brought online as much solar energy every three weeks as it did in all of 2008. Demand for solar electricity is driving this growth in capacity as more customers explore options for powering their daily lives with solar energy. However, not every rooftop is able to host a solar energy system, and not every customer owns the building for which they pay their electric bill, so typical owner and renter arrangements don't encourage either party to realize their solar aspirations.  For renters and others who can't put solar panels on their rooftop, a newly published report from the National Renewable Energy Laboratory (NREL) reveals new opportunities to go solar with the help of shared solar programs.
As explained in "Shared Solar: Current Landscape, Market Potential, and the Impact of Federal Securities Regulation," shared solar programs allow multiple customers to own or lease a portion of a solar array. These can be great options for the 49% of households and 48% of businesses unable to host photovoltaic (PV) solar systems themselves.
After accounting for the development necessary to expand the shared solar market, as well as limiting factors such as net-metering caps, the report finds that shared solar could lead to cumulative U.S. PV deployment growth of 5.5 to 11.0 gigawatts between 2015 and 2020 and represent between $8.2 billion and $16.3 billion of cumulative investment.  In fact, according to the report, by the year 2020, shared solar could account for up to half of the overall distributed solar market in the United States.
Shared solar programs offer benefits for ratepayers and utilities alike. Customers who select shared solar plans have the ability to choose their buy-in amount of solar, may transfer their solar shares to new homes, and often pay lower prices due to the buying power of aggregated demand. Shared solar is also appealing to utilities that choose to participate in designing their own programs because they can select strategic sites to ensure their shared arrays integrate well with the grid.
The report discusses a few challenges faced by shared solar, namely Securities and Exchange Commission (SEC) requirements for registration and disclosure of shared solar projects. If a shared solar program is classified by the SEC as a security, it could significantly impact how the program operates. However, shared solar offerings that are marketed and structured to reduce customers' electricity bills are less likely to be treated as a security than those marketed as profit-generating programs.
With the right federal, state, and local policies in place, shared solar presents an area of tremendous potential growth for solar PV, expanding the potential customer base to 100% of homes and businesses. To learn more about shared solar, read Shared Solar: Current Landscape, Market Potential, and the Impact of Federal Securities Regulation and check out what the SunShot Initiative is doing to further the growth of shared solar.