You are here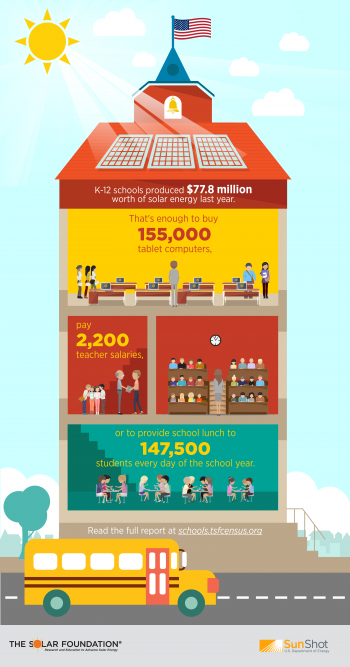 This post is excerpted from The Solar Foundation report, "Brighter Future: A Study on Solar in U.S. Schools," which was funded by the Energy Department's SunShot Initiative.
The impressive and precipitous rise of the U.S. solar industry is well documented. As of the writing of this report, total installed solar electric capacity neared 16 gigawatts (GW), providing enough solar electricity to power over 3.2 million average U.S. households. By the end of 2014, this figure is expected to surpass 20GW—more than four times the total amount of solar capacity that existed in the U.S. just three years ago. Of the more than 500,000 homes, businesses, and public entities that have installed a solar energy system, more than 3,700 of those systems are located on public and private Kindergarten through 12th grade (K-12) schools in the U.S.
While thousands of schools have already realized the cost savings and other benefits of installed solar energy capacity, this opportunity is generally underutilized. The large, flat rooftops typically found on public and private K-12 school buildings throughout the United States make many of these properties excellent candidates for rooftop solar photovoltaic (PV) or solar thermal systems. School parking lots can be put to productive use with solar PV canopies, which provide the added benefit of shading parked vehicles on sunny days, and tracts of vacant land on campus can be used to support modestly-sized solar PV farms.
Taken together, this untapped potential for solar on K-12 schools is immense. If each of the more than 72,000 schools for which solar could represent a cost-effective investment were to install an average-sized system, total PV capacity on K-12 schools would reach 5.4 GW – an amount equal to more than one-third of all the solar PV capacity currently installed in the United States.
Offsetting energy consumption with increasingly cost-competitive solar electricity, and space or water heating can deliver a significant cost savings to schools and their districts. Over time, solar can serve as a key hedge against projected increases in utility rates. As a clean energy technology, solar can provide deep reductions in greenhouse gas and criteria air pollutant emissions, helping to protect human health and the environment.
Are you an educator or administrator who is interested in learning more about the benefits of powering your school with solar energy? Find additional resources and a first steps guide in The Solar Foundation's report, and learn more about FREE technical assistance  funded by the SunShot Initiative that can help.